Getting ready to design your bedroom, but feeling a bit intimidated by the colour options? We get it. There are thousands of colours out there and choosing the perfect one can feel overwhelming. Even if you have a colour in mind, there are dozens of tones and shades, making the selection process more intensive. Fortunately, you can design a stunning bedroom with a little help from this handy guide to bedroom colour ideas.
Whether you want to wake up in a room bursting with colour or prefer a soothing, neutral boudoir, you'll find something you love on this list of bedroom colour ideas. You'll discover tips to help you play with colours and tones to create the bedroom of your dreams. Plus, we'll show you how you can use window blinds to complement your DIY bedroom colour schemes.
Bedroom Colour Ideas: Top Interior Design Styles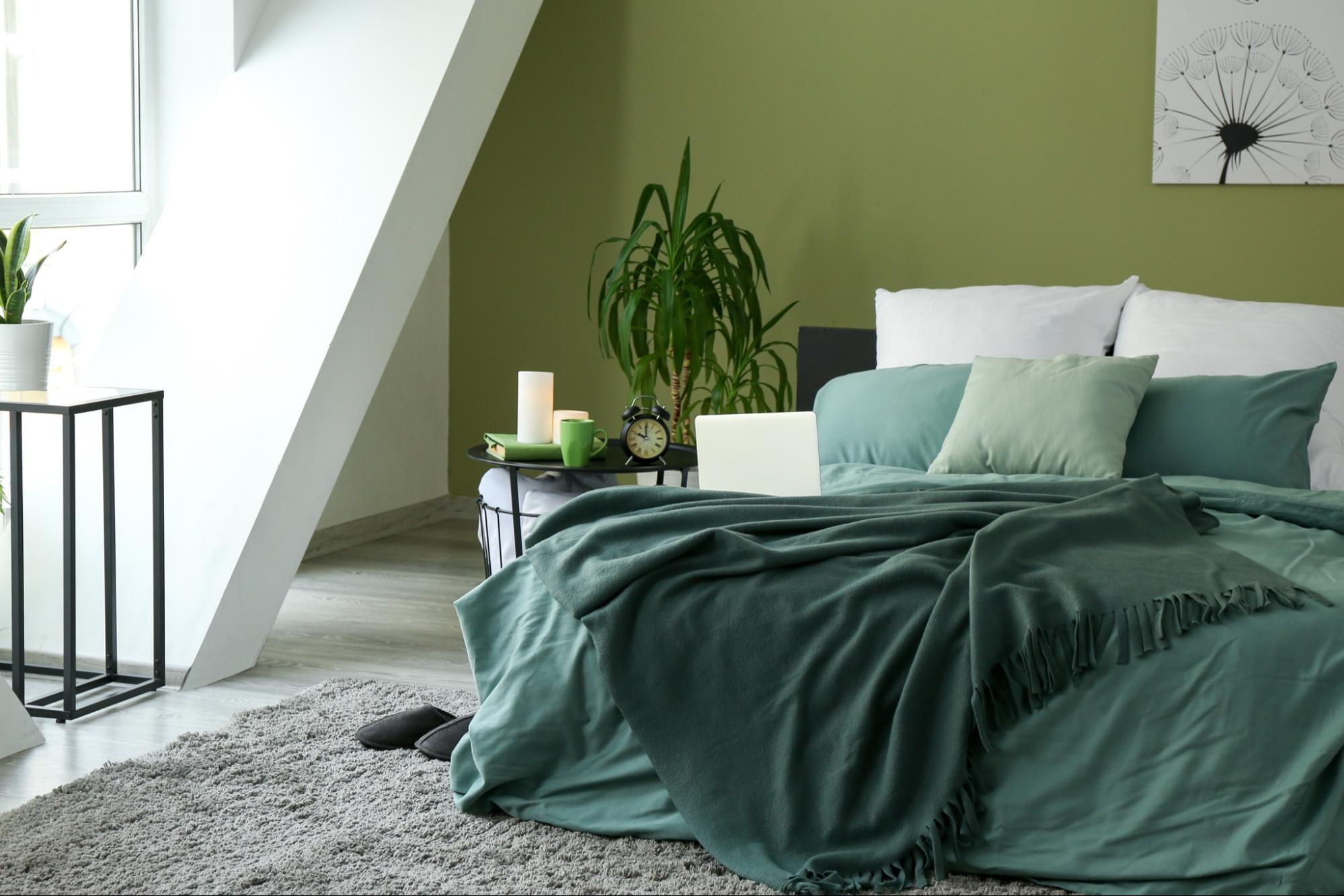 When it comes to colour, the options seem endless. It's not just white, beige, black or green anymore. You also have a large selection of slightly different shades — like, eggshell, taupe, sage and slate — to choose from. Here, we'll show you some of the latest colour trends and offer our favourite bedroom colour ideas. With this inspiration, you can get to work creating the bedroom of your dreams.
1. Deep Blue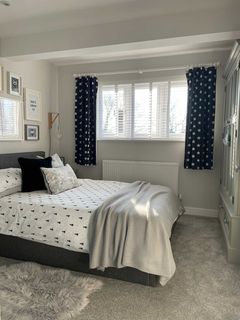 There's a reason blue is so popular in interior design. The various hues lend themselves to all kinds of design styles from coastal-chic to spring-inspired abodes. A dark blue bedroom is a great way to express your nautical style. Start with a navy blue wall or deep blue bedding. Take the design up a notch by pairing it with Blue Blinds. For a warm look, opt for blues that have brown or red undertones. For something cooler and airier, look for blues that have a green or grey undertone.
2. Bright and Soft Blues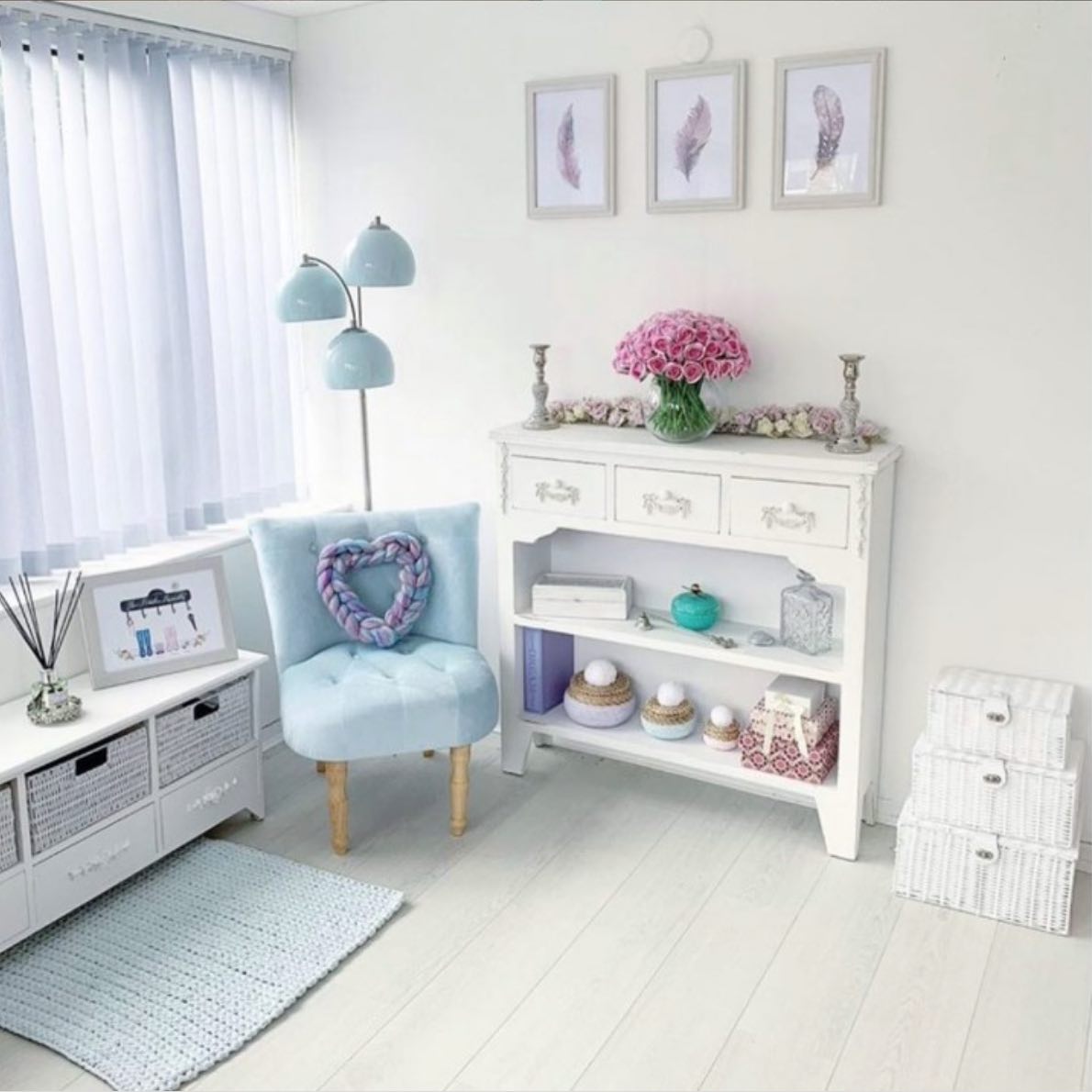 While deep blues impart a royal and elegant look, blues in lighter and brighter hues are a great way to liven up a home. Try pastel colours like sky blue and light blue for an ethereal look, or opt for vibrant blue colours like teal for a beachy design.
Our Amor Sky Blue vertical blind is ideal for bedrooms with large windows or balcony doors. The long slats draw the eye up, creating the illusion of higher ceilings. They also make it easy to use patio doors without having to adjust the blinds. Looking to turn your bedroom into a tropical getaway? Try our Burst Muted Teal Perfect Fit roller blind. The vibrant colour invites visions of Caribbean and Mediterranean waters. Pair it with bright white bedding and rope accents to complete the look.
3. Lilac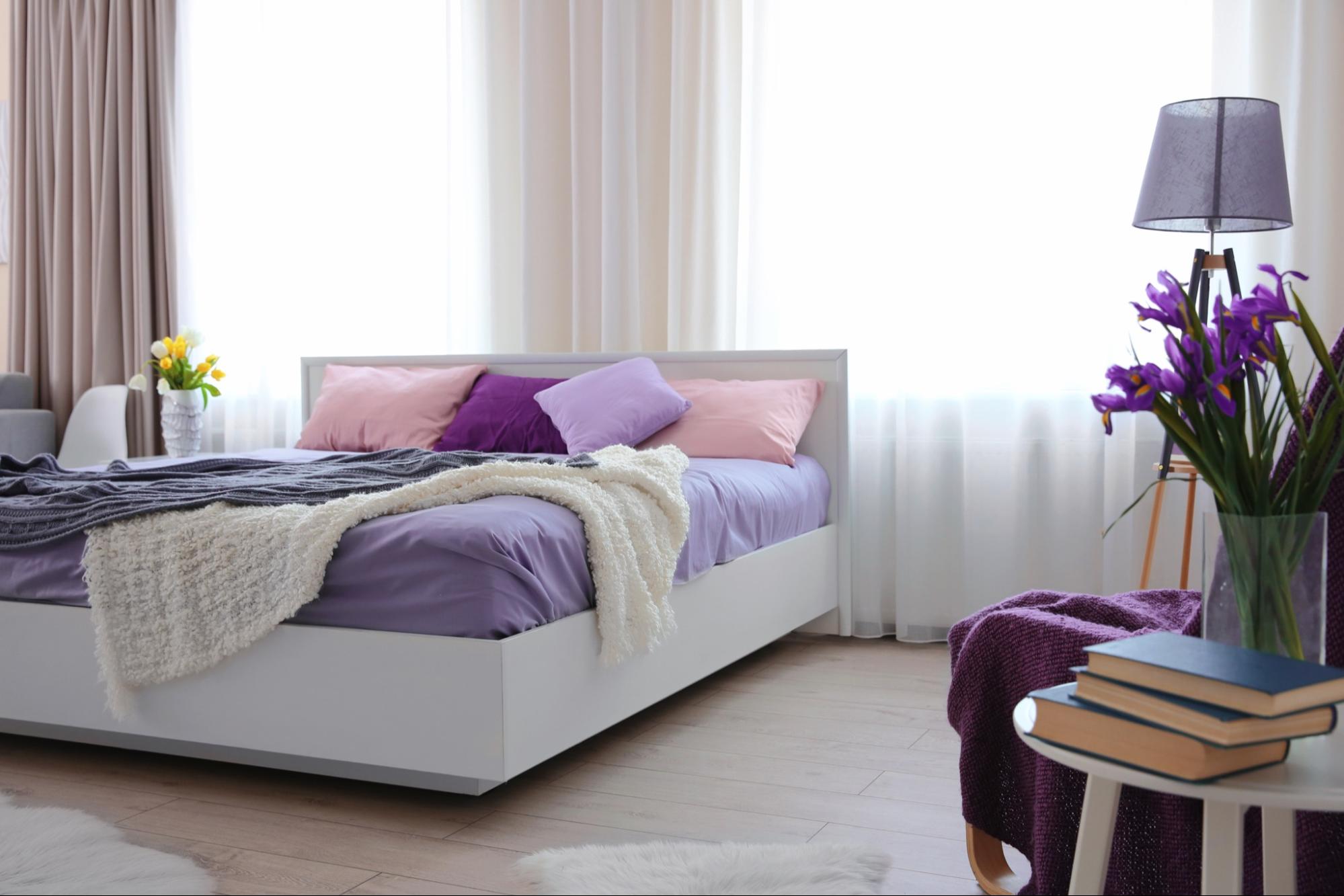 Looking for a soft and subtle makeover? Try shades of lilac that lighten up the room. To pull off the look, try blending several different purple pastel colours. The key here is to keep the look monochrome, using different shades of purple. For example, choose a lavender wall colour and pair it with wall art that has darker tones like mauve and berry. Incorporate light purple bedding and white accents to keep the look soft and sophisticated.
An easy way to tie the design together is to incorporate window dressings in purple hues. Try our Purple Vertical Blinds to create added height in larger windows. Alternatively, opt for our Burst Lavender Breeze roller blind, which helps soften the room.
4. White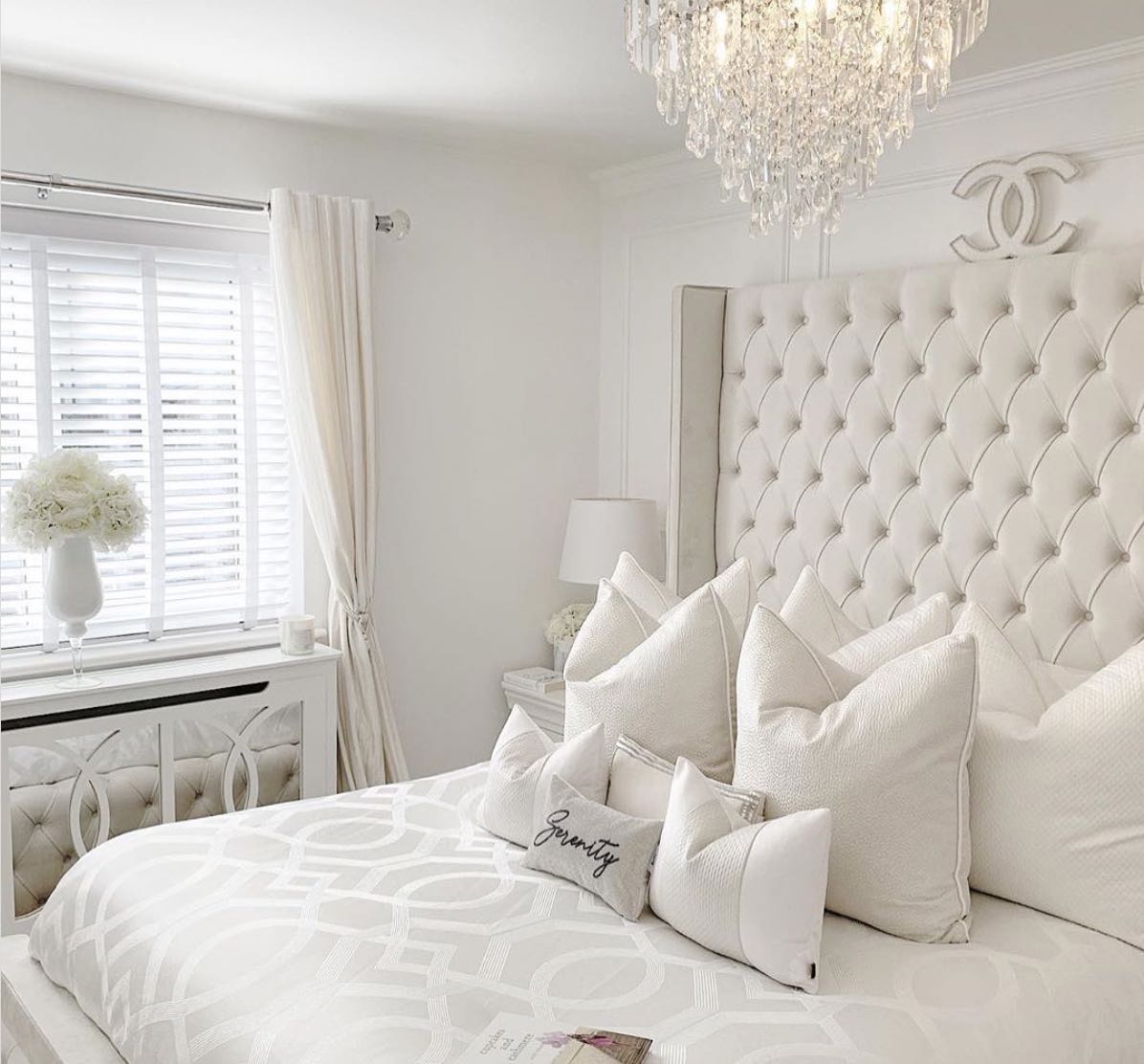 White bedrooms are classic and timeless. They can also be intimidating to create and some find them to be a bit boring. But, you can create a neutral bedroom that is sophisticated and intriguing by layering various white hues.
Start with crisp white walls to create a clean backdrop. Add beige and cream bedding to incorporate a hint of warmth. Then, use white window dressings to tie the look together. For Scandinavian style, incorporate wood accents like a pine bed frame or oak dresser. For boho-chic, add a few live plants and some light green accents or a paisley rug in cream and neutral colours.
A neutral bedroom doesn't have to be boring. Play with textures and materials to create depth and dimension. One way to do this is to use woven textiles for your window treatments. Our Luxe Dark Brilliant White roller blind features a textured weave that's perfect for adding dimension. For something even more eye-catching, try a venetian blind like our Editions Brilliant White with Slate Tape. The dark tapes add height to your windows and create a contrasting element that pops off the white background.
5. Canary Yellow

Want to wake up every morning feeling like you're drenched in sunlight, even if it's grey outside? Try a canary yellow bedroom. This bold colour is naturally cheerful, making it ideal for a master bedroom, guest bedroom, nursery or living room. Select bright yellow bedroom furniture like bedside tables or keep it simple with a yellow bedspread. Add a splash of colour with yellow window blinds like our Amor Yellow Submarine roller blind.
The bright colour gives you a bit more leeway when it comes to design elements. Consider pairing the vibrant hue with striped decor and edgy art deco pieces. Canary yellow also blends well with navy blues, khaki greens and greys if you're looking to expand the colour palette.
6. Black and White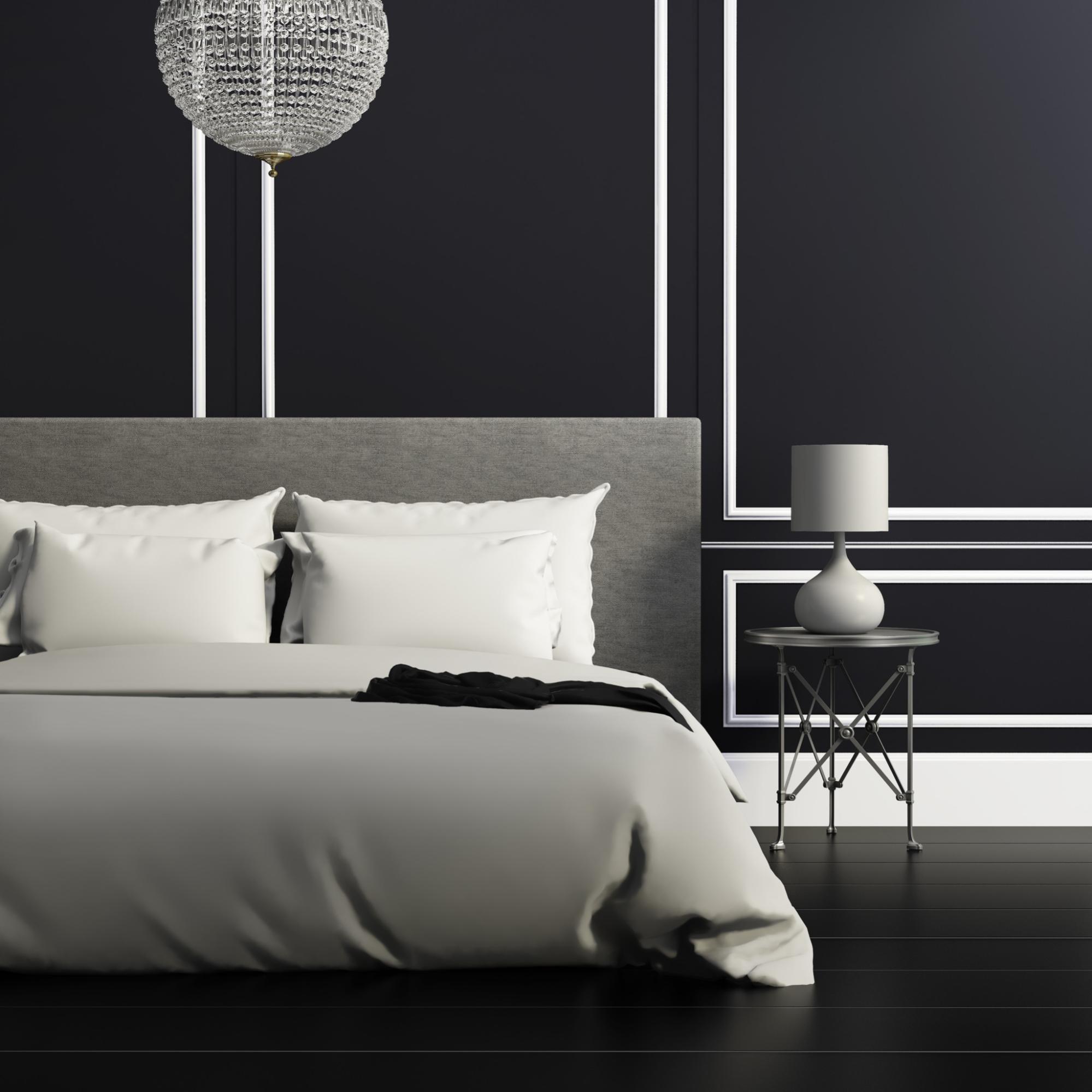 It may seem like white is the best hue to make a small room seem larger, but inky black hues also get the job done. That's why a black and white bedroom design is a great choice for smaller sleeping spaces. The easiest way to pull off this design is to paint one wall black. Look for black wall colours that have grey or blue undertones. This creates that ink-black look that can make a room feel larger.
If you're afraid that painting a whole wall black might be a touch too much, try inky black window dressings instead. You can opt for floor-length curtains or a double roller blind like our Amor Midnight with Haze Pure. This blind features two layers of fabric: one that's a dark, inky black and one that's a light, hazy white. You can adjust the blinds to play with privacy and natural light, and to complement your black and white design.
7. Sage Green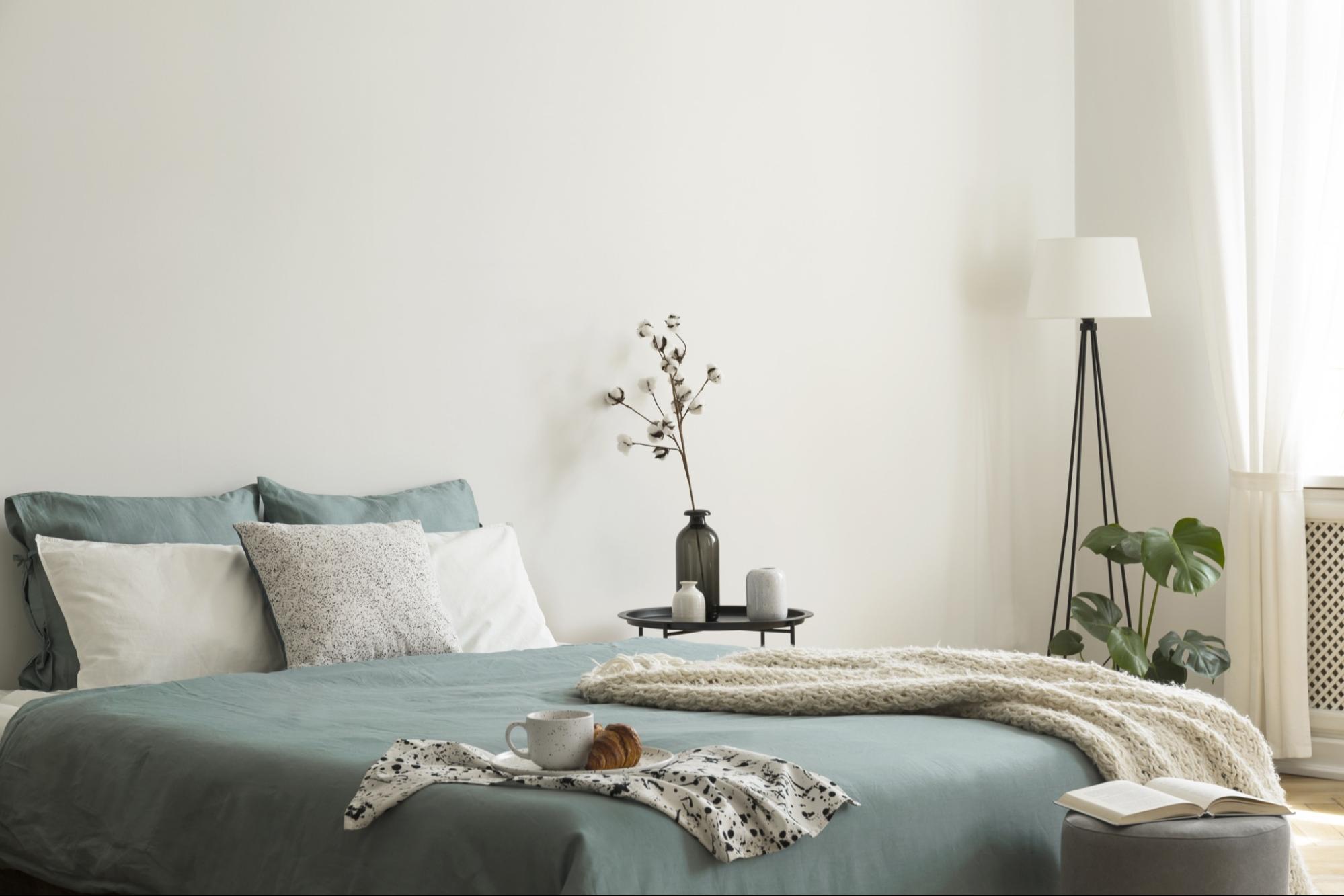 Like blue, green bedrooms can add a hint of nature without a lot of effort. Sage green is a particularly good choice for bedrooms. It has cool undertones, creating a soothing and relaxing effect that's perfect for drifting off to sleep.
Pair it with earthy tones like crimson and aubergine to create a regal look or keep it simple by sticking to a green colour palette for a forest feel. Need some sage window treatments to complete your look?
8. Light Grey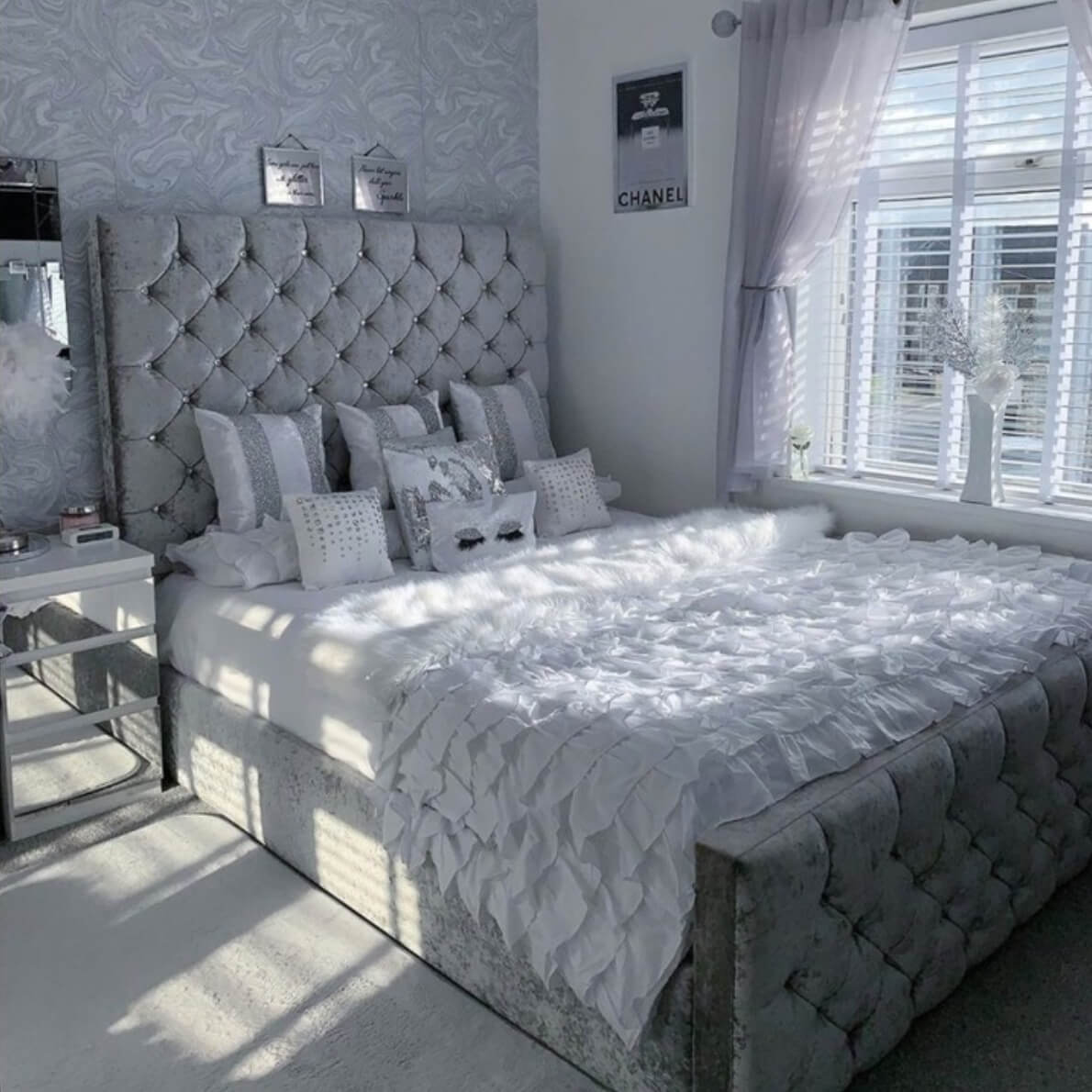 Another classic and understated option is a grey bedroom. This colour is also an easy way to update a room without doing a complete makeover. You can paint your bedroom walls a slate grey to add a peaceful and cooling effect. Alternatively, you can go for a light grey with brown undertones to warm things up a bit.
Don't feel like painting? Add grey or silver window blinds for an instant update that doesn't require a ton of effort or supplies. Best of all, light grey goes with everything so you can add bold colours to create drama or you can keep it simple with other neutrals.
9. Blush and Mauve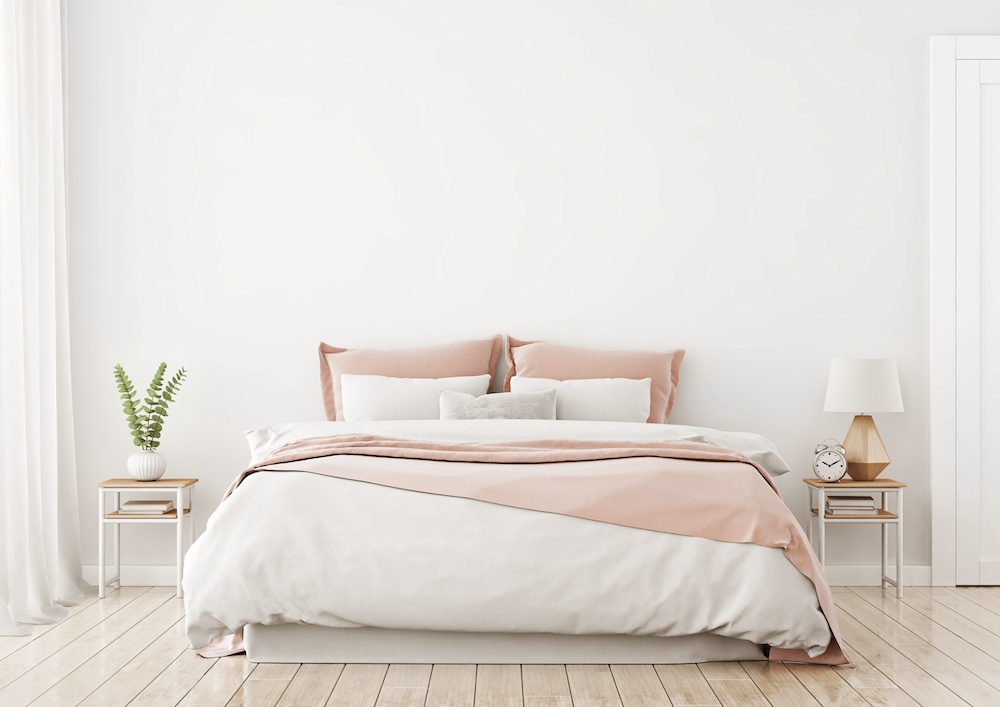 Pink bedrooms aren't just for sweet little princesses. Thanks to a large range of pink hues, you can take this style into adulthood with sophisticated elegance. Blush pink hues and mauve are great bedroom colour ideas that are more grown-up, yet still add a whimsical touch. The rich purple hues of mauve add a regal elegance with an earthy tone that sets a formal stage. You can paint a feature wall with a mauve hue and add blush bed linens to soften the colour palette.
You can also tone down the dark hue if you feel like it might overwhelm a small space. Instead of a mauve accent wall, opt for a mauve headboard. It still offers a dramatic effect, but on a smaller scale that is ideal for cozier bedrooms.
Keep the walls crisp white and add blush accents to complete the look. Choose mauve blinds like our Ritz Barrier Reef vertical blind or go for a lighter blush hue with our Amor Blushed Plum roller blind.
10. Terracotta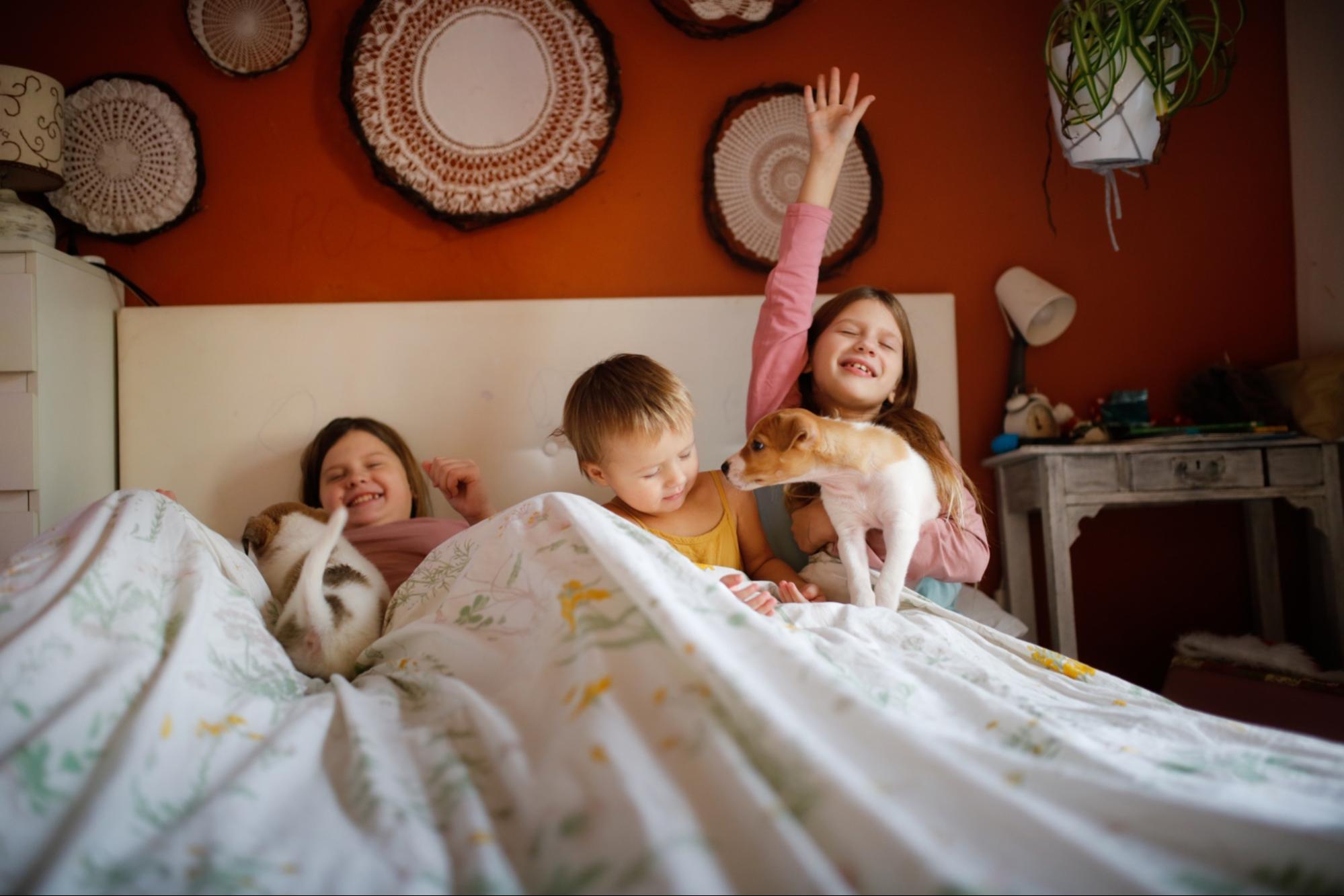 When you think of terracotta, you may think of classic orange-hued floor tiles or Spanish design. But terracotta is much more versatile than that. The brown hue has warm undertones that can really make a bedroom feel cozy. Look for paint colours with brown and orange tones if you want to create a terracotta wall. Alternatively, our Terracotta aluminium venetian blind is an easy way to add the hue to your design.
Terracotta works well as a bedroom colour scheme when paired with blush, blue and green hues. Turquoise and sage green are excellent choices for playing up a terracotta wall colour. Just add a printed rug to create a Bohemian look, or go for turquoise and blush accents to create a Mediterranean-inspired design.
11. Earthy Victorian Hues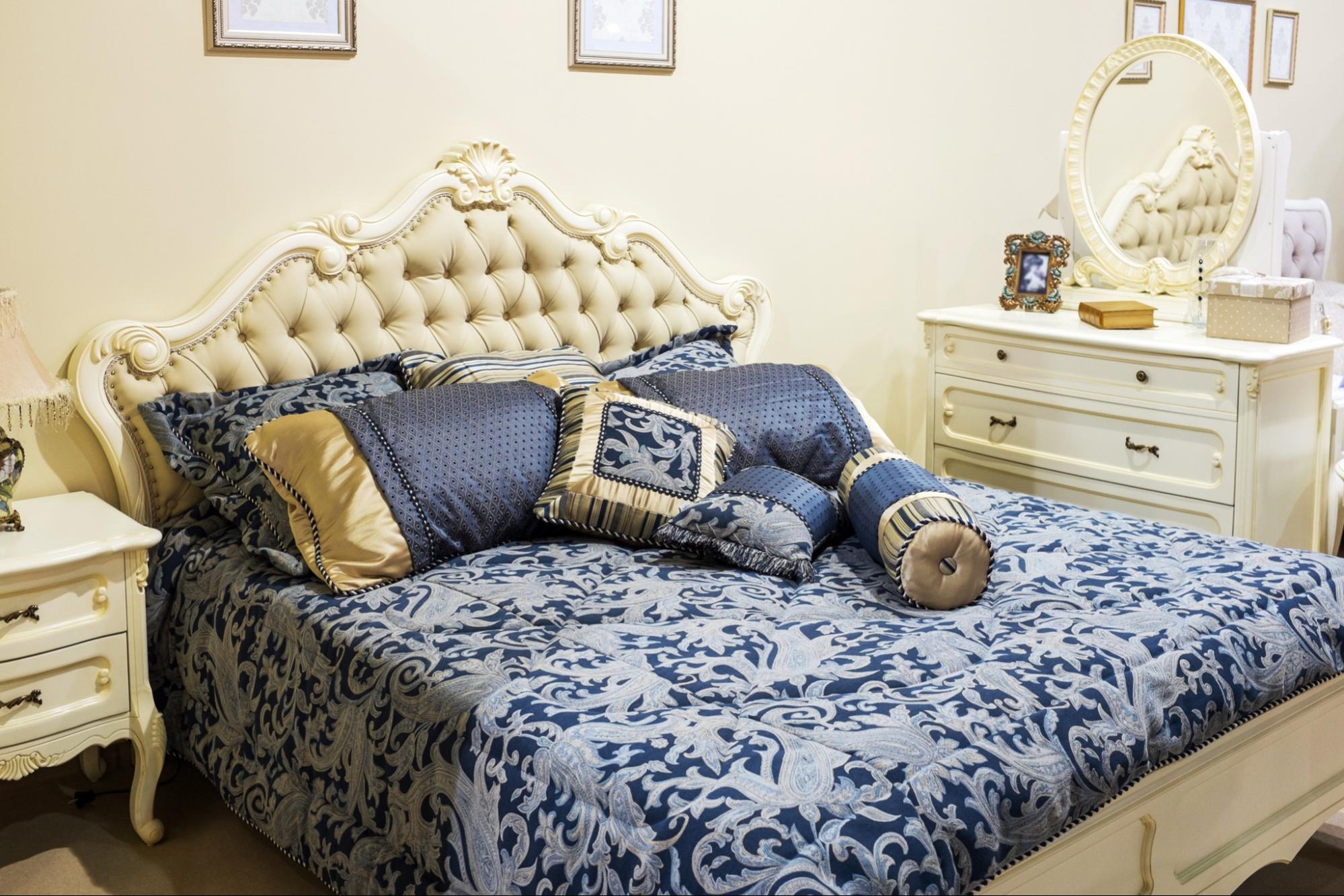 When it comes to design ideas, Victorian style is among the most popular. Whether it's bedroom decor or a home building design, this classic look is timeless and elegant. To create a Victorian bedroom, use earthy colours like brown, red, blue, green and taupe. You can even use the last bedroom colour idea — terracotta — to create this look.
Make sure to stick with earthy or gem-toned hues like emerald and ruby rather than brighter hues. Our Kerry Emerald and Panama Ruby roller blinds are both excellent choices for window blinds when crafting a Victorian look.
12. Bright Red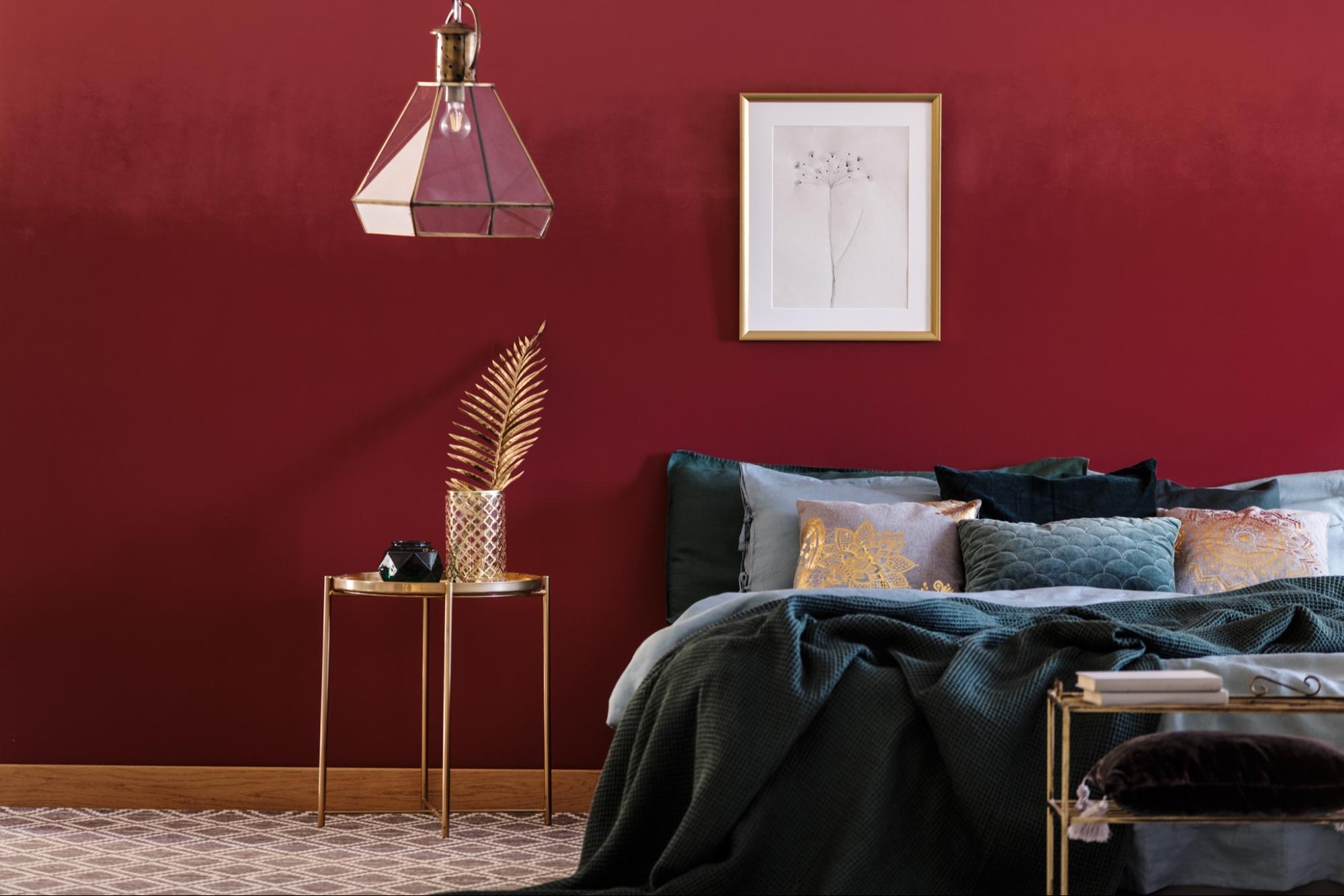 Looking to create a beautiful bedroom that really takes your breath away? Go for a big, bold colour with a lipstick rouge or bright red bedroom.
This look is best for modern bedrooms since it can easily become overwhelming if incorporated into classic styles like Bohemian or Victorian designs. To pull it off, stick to only two or three hues: a bright red and neutrals. You can select crisp white, light grey or a light brown as the second colour. You can also add in a third hue with red undertones if desired. This allows the red to take center stage.
Paint your walls lipstick red and add white bedding. You can include smaller red accents like throw pillows, blankets and rugs to complement the look. Red blinds like our Gibson Crimson vertical blind and Scarlet aluminium venetian blind help take the look up a notch.
13. Mint Green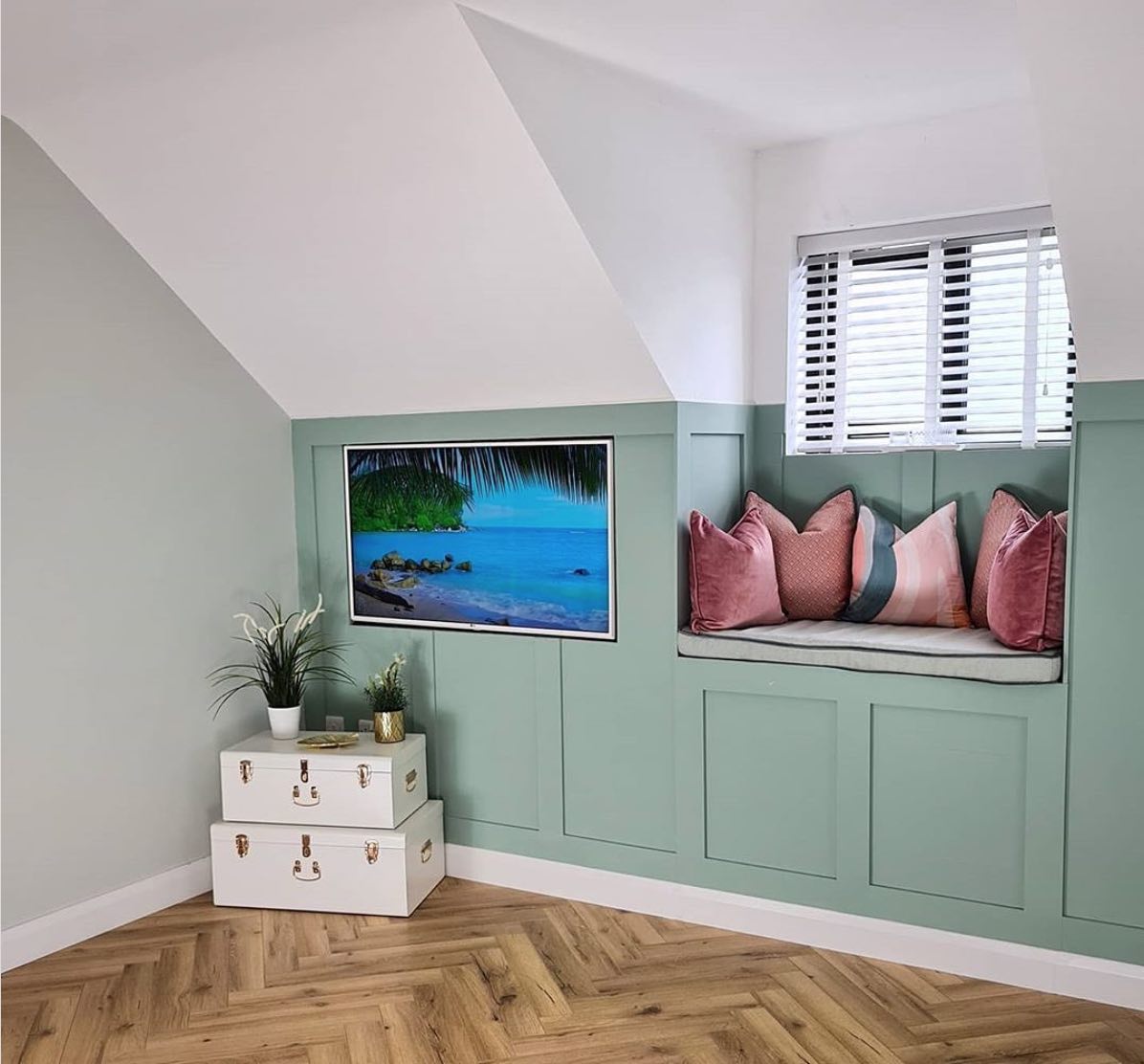 Turn your bedroom into a cozy cocoon of cheery colour with mint green hues. Start with a mint green wall and add woodwork accents. These can include statement bed frames or sculptures on bedside tables and dressers.
You can also use mint green blinds like our Mint Honeycomb Perfect Fit blind or our Dandelion Mint blind if you want a patterned blind. Add a landscape painting to boost the natural effect, and pair it with other green hues like sage and khaki. As well as your window dressings, you can incorporate these colours into your bedding and linens.