When it comes to home office ideas, most sites focus on furniture and decor. But they often forget to touch on key elements like window dressings. In an office, light can make or break productivity. If it's too dark, you may feel gloomy and unmotivated. If it's too bright, you may have to squint or struggle to read your computer screen. Choosing a high-quality window blind can help make your home office more comfortable and productive. That's why we created this guide to home office design ideas focused on window blinds.
You'll discover five of the best blinds for a home office and tips on what to consider when choosing the best window dressing for your office space. Plus, you'll find design inspiration and learn where you can buy high-quality made-to-measure blinds for your home office.
Home Office Design Ideas: The 5 Best Blinds
Our home office design ideas are focused on window blinds. Here, you'll find the top window dressings to make your office a calm sanctuary or an elegant space where you can host important clients. Here are five of our favourite blinds that we think complement most home office design ideas.
1. Roller Blinds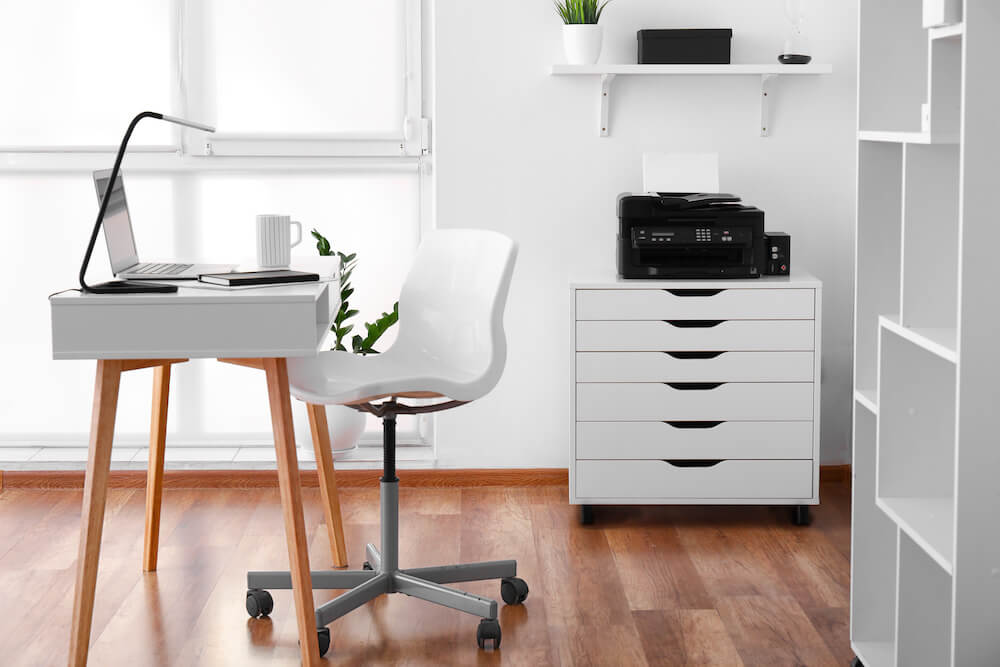 Roller blinds are classic and timeless. They offer a minimalist silhouette, helping to make the space feel more open. The blinds feature a slim design that tucks into the window recess, minimising bulk. That's great news for people who have small office spaces where curtains can feel oppressive.
Roller blinds feature a large strip of fabric that rolls up and down on a headrail. They come in a huge range of fabrics. Opt for see-through cotton to let light in or heavy-duty polyester fabric that blocks out light depending on your study area or office needs.
The variety of colours and patterns also makes it easy to match your decor. Look for patterned roller blinds if you want to create a boho-chic look. You can match the blinds to similar prints on rugs and throw pillows if your home office has a sofa. For a sophisticated office, you can choose regal hues like emerald and ruby or stick to classic neutrals like grey and white.
Roller blinds are easy to adjust and also easy to care for. Just give them a quick dusting every few weeks or vacuum using an upholstery brush. If you accidentally spill coffee on them during the workday, you can just wipe them clean with a damp microfibre cloth.
2. Roman Blinds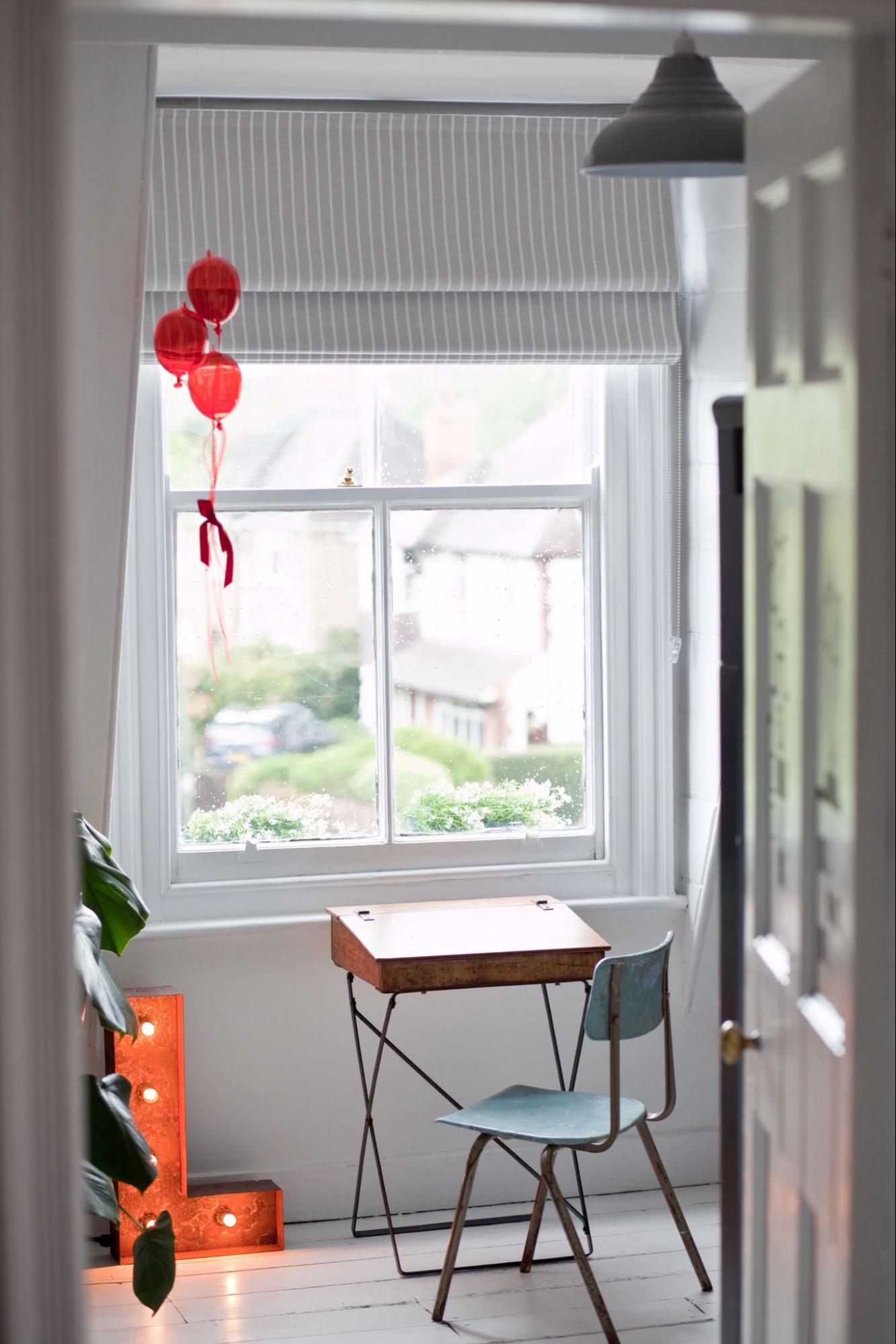 Image: LocationHouseofBeau
Roman blinds are also made of fabric. However, the fabric drapes elegantly on top of itself when the blind is open. This creates a sophisticated air that's perfect for fancier home offices or larger spaces like office areas in family rooms. They're also popular in dining rooms and entryways where you may greet office guests.
Like roller blinds, they come in various colours and fabrics to suit your needs. One way to designate a work area in a larger room — like a guest room or storage space — is to create a cosy nook. Pick one corner of the room for your office. Hang roman blinds on the window by the desk. For a cohesive look, match the colour of the blinds to the colour of office storage bins or your office chair. Then, in the rest of the space you can use a different colour scheme to create a divider between your office area.
3. Wooden Blinds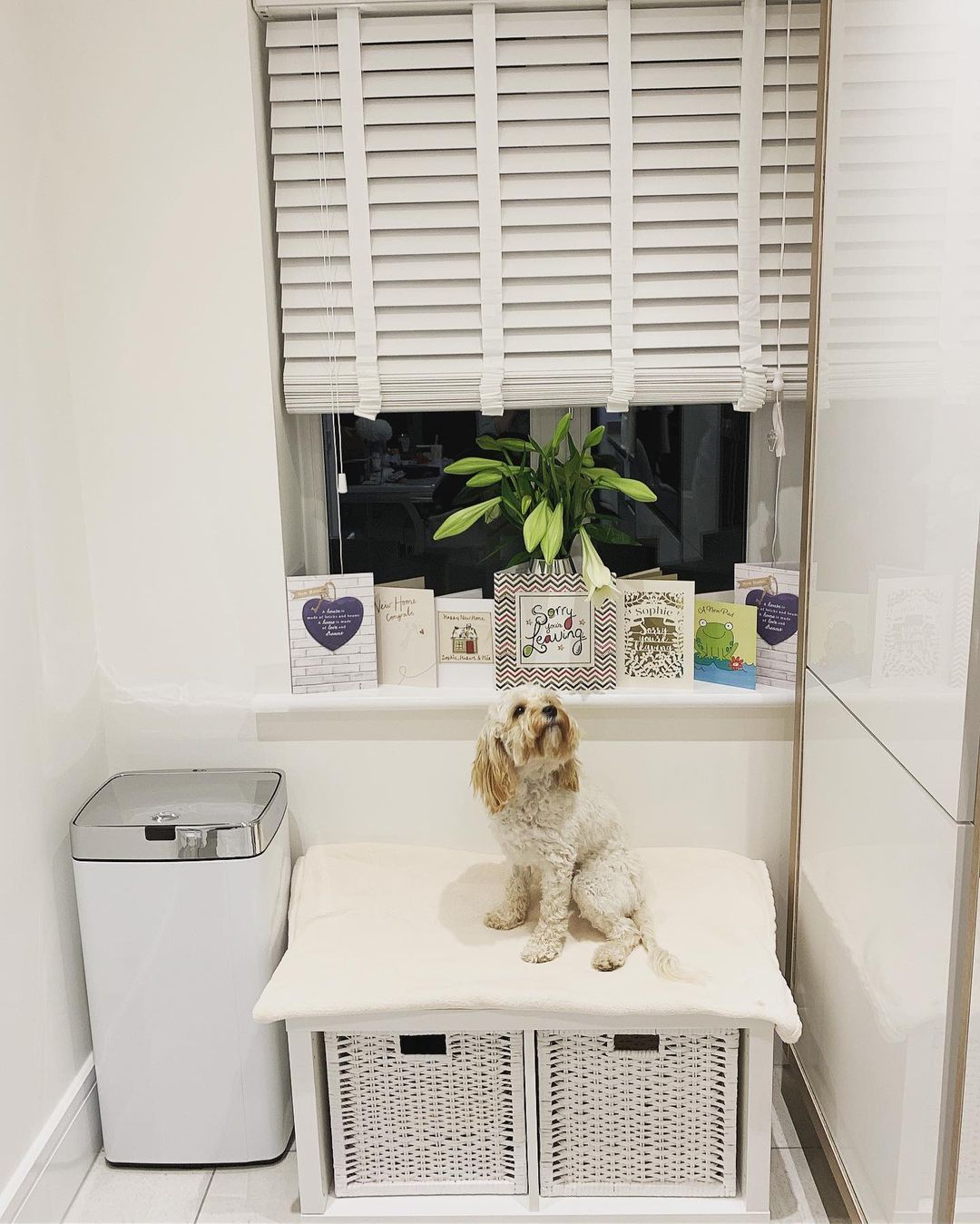 Image: MyHome.No7
Wooden blinds are a great way to make a style statement and make any office look more professional. These blinds are made of real wood, faux wood and aluminium. Real wood blinds and faux wood blinds are great for home offices with a natural aesthetic. This includes Scandinavian designs and Asian-inspired work spaces. Aluminium blinds, also known as venetian blinds, are perfect for a contemporary home office since they offer a cool, sleek look.
For a put-together home office design, choose wooden blinds in the same finish as your office cabinetry. This can add a ton of style to a small space and really make your office look professional. Wooden blinds are also ideal for modern home offices. Look for wooden blinds in darker finishes to create an elegant look or opt for light woods which are ideal for casual craft rooms.
4. Vertical Blinds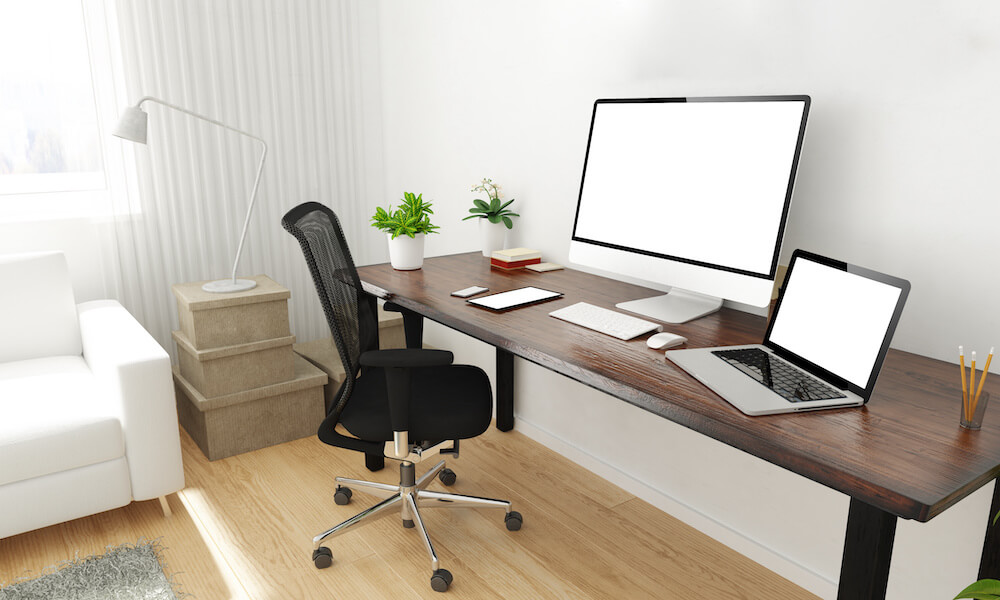 Vertical blinds are different from the other styles on this list. They don't move up and down. Instead, they move side to side. They're ideal for large windows and home office spaces with glass doors. If your office has a bifold or French door, you can move in and out to take breaks without adjusting the blind. That's because you can slip in between the hanging louvres instead of adjusting an entire fabric blind.
Vertical blinds don't just come in white. They come in several hues including vibrant teal and orange to match bold paint colours. You'll also find more muted grey or beige hues for a subdued look. Whatever your design preference, it's easy to match your home office decor using vertical blinds.
5. Skylight Blinds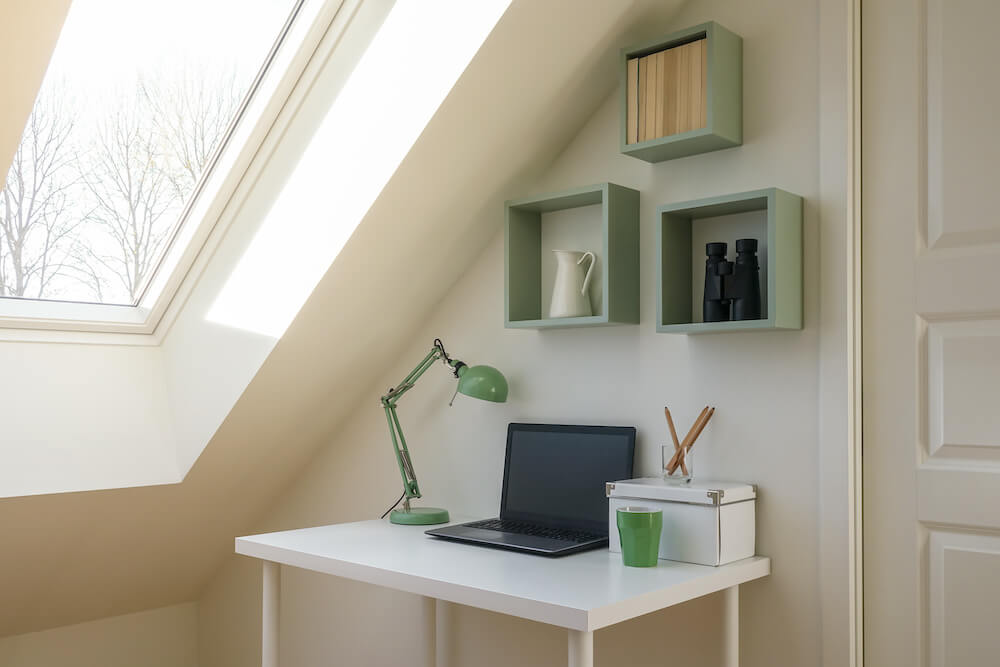 For many people working from home, a loft or attic is the perfect spot for a home office. These rooms often have skylights to allow more natural light in. While that's great for creating a bright space to work in, it can also lead to glare from the sun. During the evening hours, artificial light from lamp posts can also disrupt your productivity. That's where skylight blinds come in.
Skylight blinds are fabric blinds that come in various colours and patterns. You can pair the blinds to match your office furniture colours for a monochrome look. Alternatively, you can switch it up and choose contrasting hues — like turquoise and terracotta — for a bolder appearance.
The blinds can be opened to let early morning light fill the space. Or you can close them during the day to keep the area cool and prevent glare. Skylight blinds come in manual and electronic options. Remote-control operated skylight blinds are a great choice for lofts with high windows so you can easily adjust the blinds without getting out of your desk chair.
How to Choose the Best Blinds for Home Offices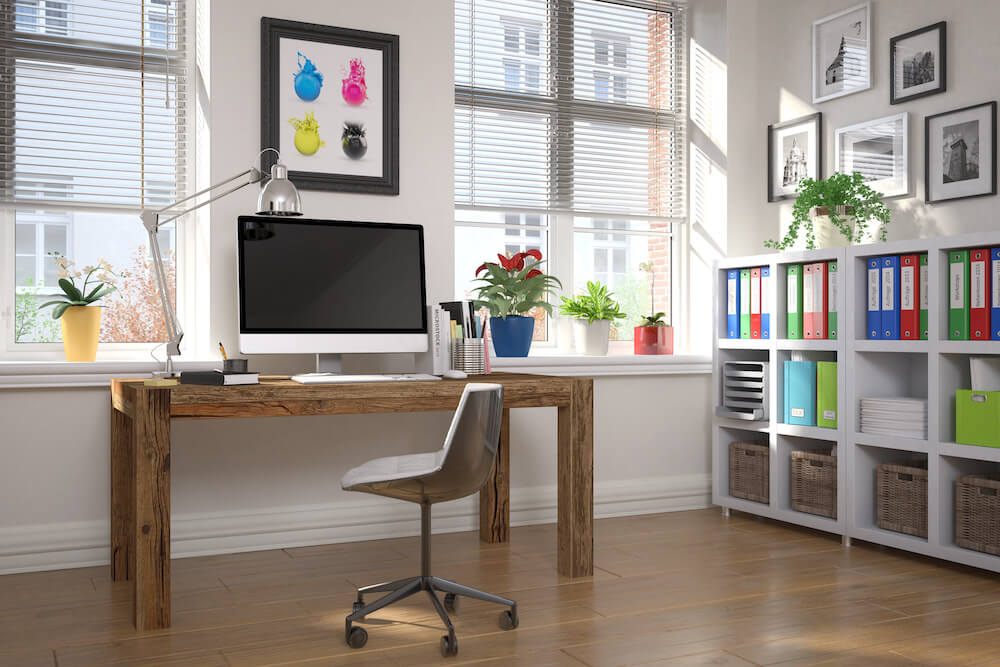 When it comes to selecting window treatments for your home office, it's important to consider the space and your needs. First, think about the room where your office is located. Is your office space a separate room? Or do you have an office desk in your guest bedroom or living room? Does your computer screen or workspace face a window?
Depending on where your office is located, you may want more than one blind to meet different needs. For example, you may want a voile blind in a living room office for when you're enjoying the space with family and friends. The sheer fabric will allow you to drink in picturesque views of greenery as you enjoy afternoon tea. However, you may also want a blackout blind that you can adjust during the day to reduce glare on your computer screen when you're working.
You'll also want to consider privacy. If you have a window behind you when you're sitting at your desk, passersby may be able to see the screen. That's where a blackout blind comes in handy. It can prevent glare and keep people from seeing sensitive work information.
It's also important to consider any obstructions when you're deciding where to mount window blinds. You want to make sure the blind doesn't interfere with office furniture like swivel chairs and built-in shelving like bookshelves or IKEA floating shelves. Pay attention to any desk lamps and light fixtures that may block the window blind, especially if your desk is placed right in front of the glazing. Use our measuring guides to ensure your blinds fit perfectly on your windows and account for any potential obstructions before ordering.