If you have a roof window, you know how important window coverings are. While skylights can brighten your home and make it feel larger, they're also notorious for disrupting sleep and heating up your humble abode.
Fortunately, adding a skylight blind can help reduce these issues and maximise the benefits. If you're buying a roof window blind, it's important to find the right ones. In most cases, you'll need to use a blind that fits the manufacturer. For example, if you have a Velux window, you'll want to use a Velux window blind.
You can find Velux blinds from the manufacturer as well as blind retailers like Make My Blinds. Here, we'll explain the different types of Velux blinds and where to buy them. Plus, we'll show you some of our favourite Velux blinds and offer style tips and buying guidance for each one.
Types of Velux Blinds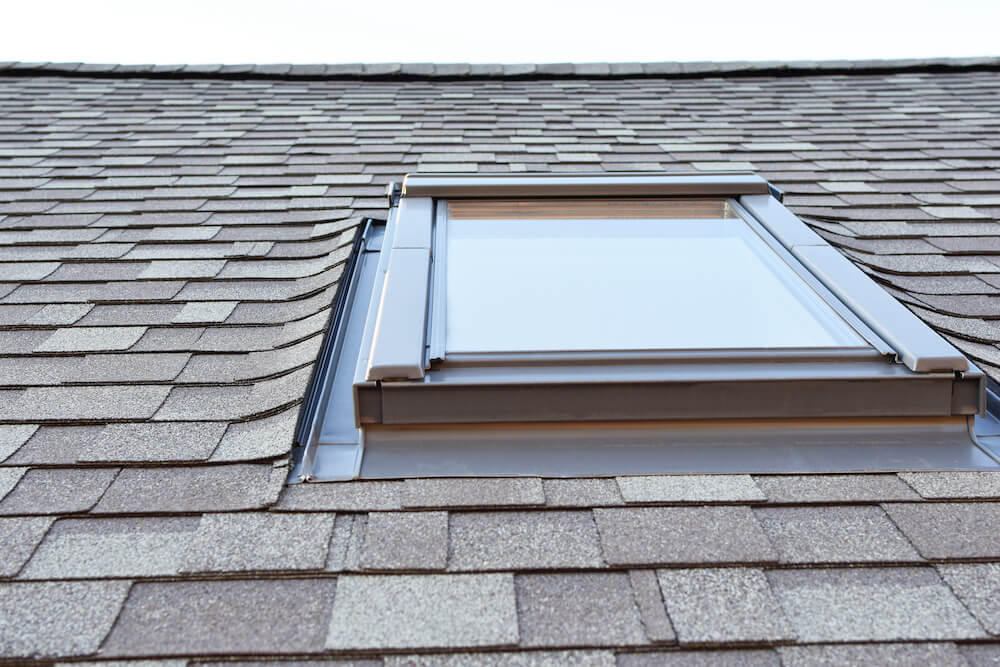 There are several different types of Velux skylight blinds that you can choose from. All genuine Velux blinds are mounted to the glazing just before the beading. They feature a headrail and two side rails that are secured in place using screws.
The side channels keep the fabric tucked in tight. This way, the blind won't dangle from a tilted skylight or flat roof window. This blind type is also called a Perfect Fit blind when it's used on non-skylight windows. The frame fits neatly into the window frame, creating a seamless look.
There are both manual and electronically operated Velux blinds so you can choose the best fit for your home. For manual operation, you'll use a telescopic control rod to turn a hook on the headrail. Alternatively, you can select electronic blinds that are raised and lowered using a remote control. This is a particularly good choice if you have very high skylight windows or roof windows in spaces that are difficult to access.
Here, we'll give you a brief rundown of the different types of Velux blinds. Plus, you'll find tips on which styles to choose based on your needs.
Velux Roller Blinds
Roller blinds are a type of window treatment featuring a large piece of fabric that winds up and down on a headrail. These blinds are incredibly popular thanks to the wide range of colours, patterns and prints.
They come in various fabrics from soft and natural cotton to waterproof polyester and PVC fabrics. That means you can use these blinds in virtually any room in your home without worrying about them getting damaged. You can also choose between blackout and dimout styles depending on your light control preferences.
Velux Blackout Blinds
A blackout blind is a perfect solution if you want to be able to keep out all natural and artificial light. Blackout blinds feature dark and opaque fabrics that prevent light from streaming into a room.
Velux blackout blinds are well-suited for bedrooms and nurseries. They can provide a dark environment that's conducive to a good night's sleep.
Velux blackout roller blinds are also ideal for entertainment rooms and offices. The blackout fabric can prevent light that causes a glare on screens and it can also help adjust the lighting in your home for better video call visuals.
Velux Pleated Blinds
There are two kinds of pleated blinds available for Velux windows. These include room-darkening double pleated blinds and light-filtering single pleated blinds. Pleated blinds feature folds or a honeycomb structure that helps to block out light and maintain a comfortable indoor climate.
The layers create an air pocket that works as an insulating layer. That means you can trap cold air outside your home in the wintertime and keep the heat outside in the warmer summer months. In fact, pleated blinds can help you save money on your energy bills, especially when they're used on skylights.
The double-pleated blinds are also known as Duo Blackout blinds. They work similarly to a blackout blind, blocking out the majority of the light that enters the room. Single pleated blinds for Velux windows are made of one layer of fabric, helping to diffuse light, but still allowing it to filter into the room.
Velux Venetian Blinds
When you think of window blinds, you may picture window dressings with rigid horizontal slats. These are known as venetian blinds. Venetian blinds can be made of real wood or faux wood as well as aluminium.
Real wooden blinds add a natural element to the room and are great for cabin decor, country homes and boho-chic designs. Faux wood is better suited for wet areas including bathroom and kitchen windows. They are usually made of PVC, so they won't warp like real wood if they get wet. Aluminium venetians are a modern take on the classic style and they're incredibly durable, making them a great choice for most rooms and Velux roof windows.
Most venetian blinds for Velux windows come in aluminium. The material is highly prized for its durability and easy cleaning. You can use a damp rag and wipe down each slat or just give it a quick dusting with a feather brush.
4 of Our Favourite Velux Blinds Plus Style Tips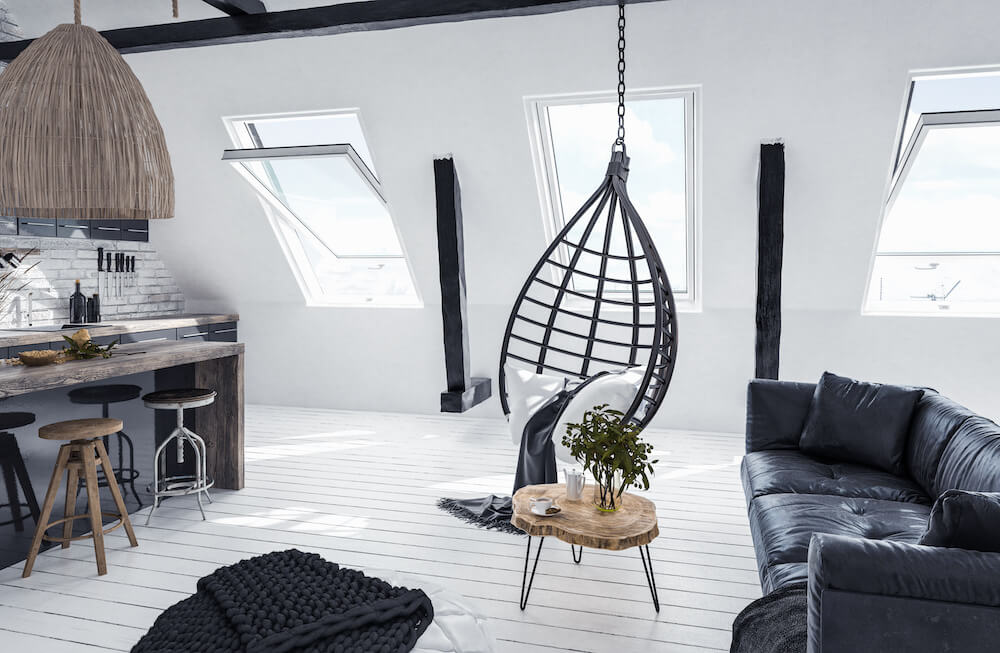 Skylights are stunning windows that bring light into small spaces and make your home more functional. But they can also make rooms hotter thanks to direct sunlight. In addition, these windows can make sleep more difficult if you live in a city or somewhere with a lot of bright lighting.
Fortunately, adding a skylight blind to your Velux window can help you minimise the drawbacks and maximise the benefits of roof windows. Here are some of our favourite Velux blinds and style tips to turn your home into a showplace.
1. Cream Blackout Velux Blind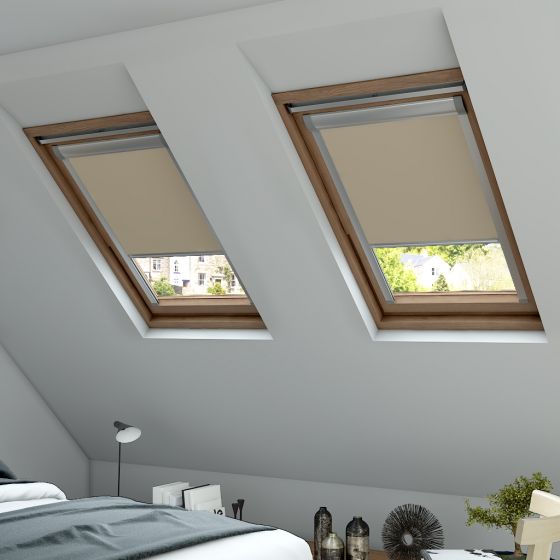 Our cream Velux blind is the perfect way to add light control with a refined look. It pairs perfectly with rich hues like ruby, merlot, emerald and dark purples. These blinds are sensible and sophisticated, making them ideal for offices and other quiet spaces.
2. Dark Blue Velux Blackout Blind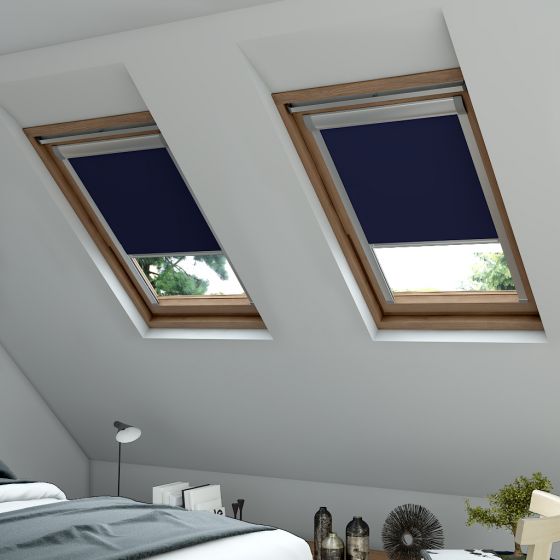 This dark blue roof blind draws inspiration from the deep blue waters of Aruba. It's regal and refined yet relaxing. That means it's well-suited for upscale environments like company conference rooms as well as cosy bedrooms.
3. Flint Grey Velux Blackout Blind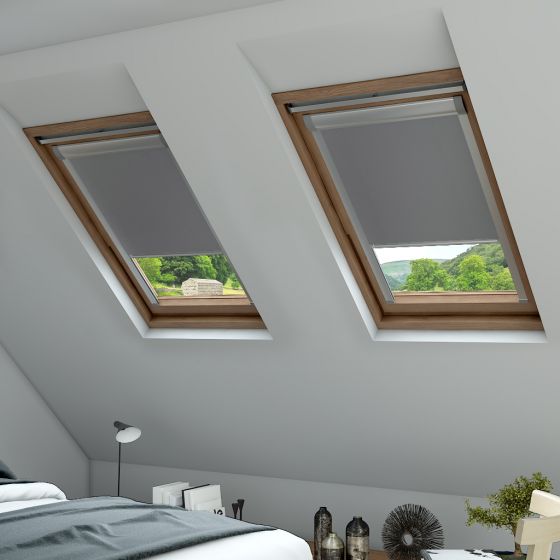 This light grey Velux blind is as stylish as it is functional. The blackout fabric offers heat protection, helping to keep your room cool. This is especially useful for skylights in attics that can often turn the room a tad too toasty. The silvery grey colour adds a delicate shimmer to the room and the fabric helps to reflect light, keeping the room dark and cool.
4. Red Blackout Blind for Velux Windows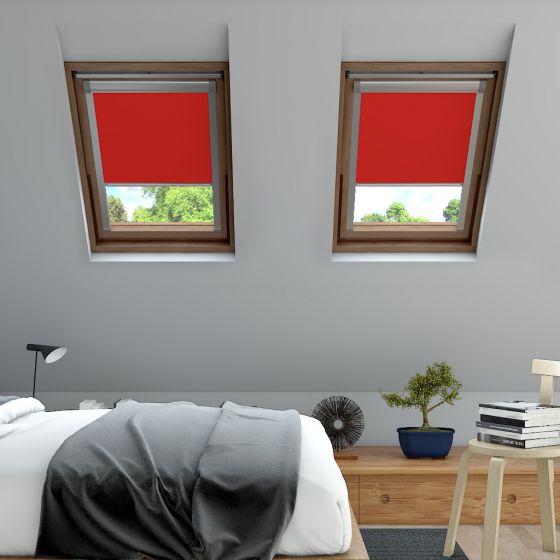 Want to make a statement? This bold red blind is just what you're looking for. Its eye-catching red hue is sure to turn heads and add a little cheer to your space. Pair it with other vibrant hues like orange and yellow for a colour-block look. You can also mix things up by pairing it with statement prints. For a more modest look, use neutral hues like grey or stick to other hues in the red family for a cohesive appearance.