What brought you to this page? Are you at your wits end with your living room? Does that darn sunlight stream in and glare off of the telly? Is there some weirdo walking past outside giving you the stink eye as you try to relax with a bit of Pointless? Are the blinds you already have getting old and tatty or just not up to the task? Well, whatever your issue, there is a solution! You may be worried, getting a new window blind for your living room is kinda' complicated and expensive, you don't really need to do it right now surely? Well fear not because with our super-simple guides you'll be installing your new blinds in no time.
Now that you're convinced, let's get right to it. Let's begin by quickly running through your options. Living Room Roller Blinds
As standard as you're going to get and the staple of the blind world, roller blinds are the most versatile and popular type of blinds in the UK. This isn't without reason; they have a lot of properties that endear them to the public. Most importantly, they are versatile. Coming in a staggeringly large variety of colours from intense, reds to soft blues and yellows, you will be able to find the perfect blind for your living room. You might even want to throw a funky-pattern in your window too - just to add some vibrancy and colour to your decor.
Another factor that makes them so loveable is their ease of installation. All it takes is four screws, 10 minutes and a very basic level of competence to install them - just follow our handy install video to see for yourself. Hint: we also have them for measuring too so you can be a measuring pro.
Vertical Blinds
Vertical blinds are fairly similar to rollers, in terms of price and transient properties, mostly because they largely share the same fabrics. They use a very different mechanism though which gives it some advantages and drawbacks when compared to their cousin.
Vertical blinds are perfect for biiiiiiiiiig windows, anything up to 5 metres is pretty easy for us. Their mechanism also gives you the ability to modulate light entering the room to a greater degree than a standard roller. However, due to the way the fabric is cut, patterns are much more difficult to transfer, resulting in a slightly smaller catalogue than the rollers. This really doesn't matter if you don't like patterns anyway, obviously.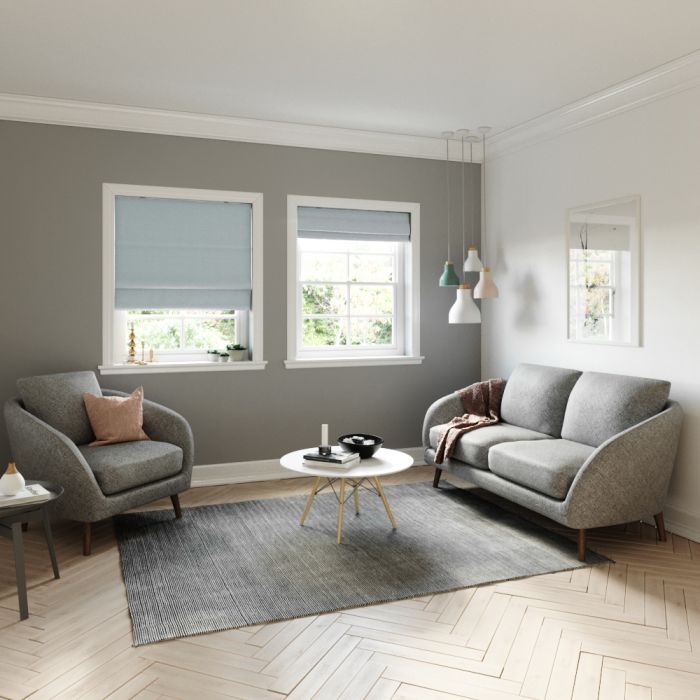 Roman Blinds
Similar to roller blinds in function, roman blinds enjoy two key differences. Firstly, they utilise a slightly different mechanism that gives them a gorgeous cascading effect and gives them more presence in a room even when they are stowed up.
Secondly, they mostly use a completely different fabric set than the other fabric-based blinds, coming in a wide variety of unique patterns and colours that just ooze charm (well a lot of them ooze charm, some look like they're trying a bit too hard (that isn't their fault though, they're under a lot of pressure (Or should I say tension? BOOM, triple bracket blind pun))).
Venetian Blinds
So, with all these gorgeous fabric blinds available, why should you even think about getting Venetians? A couple of reasons stand out. For the more frugal of you out there is the price; being cheaper than most other blinds apart from the cheapest rollers, Venetians are a great low-cost option to dress all your shamelessly naked windows. Another is the number of materials available to make them: the most common are Aluminium, which is cheap, light and impossible for Americans to pronounce. Or you've got wood/timber, which is classy, wider in the slat for greater light blocking ability and generally looks the business in your window. If you are still not sure, Venetians are also available in faux wood, which looks and feels identical to the timber but is moisture resistant and 100% waterproof. However, they are slightly heavier meaning it takes a little bit of muscle to reposition them, and if you are wanting a wood texture and colouring we would still recommend real wooden blinds.
Another perk of Venetians lies in their ability to moderate light - in other words, they serve as great light control blinds. They can go from an almost complete blackout to being invisible from certain angles at the pull of a string. They are also crazy easy to clean, just give them a quick wipe and you're done, unlike other blinds which need a bit more creativity and elbow grease.
Finally, a highly underrated element of the Venetians is their sound. There is nothing more satisfying that illuminating a room with a quick Zzzing from your aluminium Venetian, or the gentle clattering from real wooden blinds.
Shutters
While we are on the topic of slat-based blinds, I just want to quickly mention shutters. While not technically a blind, they have many of the advantages of wooden Venetians – Easy to clean, great at moderating light and they look just absolutely brilliant inside and out. Being seen as bit traditional can work in their favour, as it gives them that amazing, timeless feel that won't age anywhere nearly as quick as your home. Being simple in design they also enjoy less functional problems than coverings that rely on more complex mechanisms.
Shutters are also amazing at helping trap heat in during the winter and keeping your home cool in the summer, but what they are also good at keeping out is unwanted guests. Anyone trying to break through your window will have a wooden gate that, while not impervious, still creates an annoying and noisy barrier that they will struggle to get past.
So now you know your options, it's time to find the right one for your living room!
Now everyone's living room is totally different, they all come in different decors, light orientations, amount of privacy and little idiosyncrasies that we can't account for, so, by all means, do not take what we say as gospel; if you know what is right for your room then buck the trend and do something outside the lines of convention. We just want to give you some ideas and get you thinking about some things you may not have considered.
irstly, and perhaps most importantly, we need to think of the needs of your room: How much light is there throughout the day, what direction the window is facing, how much passing foot traffic is outside that you don't want to peer in? These are all important aspects in picking the right blind. Starting with the big one, how much light do you want to allow into your room when the blind is deployed and how much do you need to control it? If you're looking for a fully blackout roller blind, vertical or roman blind with a blackout lining you don't need to worry about any light whatsoever; when the blind is down then so too is the sun as far as you are aware. Wide slat faux/wooden Venetians are also great for this, as they are almost entirely blackout (except for a few gaps depending on the angle of the sun) and also allow for changing light conditions on demand.
Obviously, any blind that blocks light will also help keep out those prying eyes too. But what if you want to keep them out while still letting some light in? If you want clean, crisp light, then any Venetian is a good shout, altering the slats in the right way will make them opaque to a viewer but permeable to light coming from above. Alternatively, you could use a dimout fabric blind, which takes the sting away from the light but doesn't block all of it. More colourful rollers or verticals will splash their colour around the room, adding their rich colours to your palette. Finally, you are left with a voile fabric, which is almost sheer in nature and will block anything on their darker side. This means you get LOADS of light and almost total privacy during the day but be wary. At night, with your lights on, that will be reversed and everyone will be able to see you sat around watching TV.
Décor
Now comes the tricky part: finding a blind that matches your décor and furniture. In the ideal world, we would get you to scrap your entire room and redo it to match our blinds but we know that can come off as a little unrealistic. So instead, just think really hard about the vibe you are trying to get from your living room and what furnishings and colours are already present in the space. Try not to clutter your palette; 3 main colours max is generally a good rule of thumb and using a colour wheel is a great shout as it gives you an idea about which colours compliment and contrast well with one another.
Once you have an idea of your colour scheme, work out where you want your blind to fit into it. Do you want a bright, colourful statement piece that dumps personality into the middle of the room or are you more drawn to the idea of using it to forward a more mellow aesthetic? For example; in a plain, beige room you have loads of options. Do you get a bright pink roller blind for that bold statement of colour, using pink cushions, throws or rugs to tie it into the scheme? Or do you already have a lot of traditional furnishings using mainly wood or leather that would better suit a more refined flavour? In which case we would recommend something like a more rustic roman blind that incorporates browns and other earthy, neutral colours into its pattern, adding an air of sophistication that would impress even your mother in law. All of our blinds on our site have some very basic styling advice to give you some ideas of matching decors. Another thing to bear in mind is the window that the blind will be covering. Smaller windows are probably more suited to more luxurious blinds because a) smaller blinds are cheaper (shocker) so this is a great opportunity to splurge on something fancy and b) they allow you to turn a boring little window into a great focal point for the entire room. Larger windows, however, may be limited by the maximum rail size of, for example, wooden Venetians which may be too heavy, so consider that before you get too set on anyone. If you have bifold doors or other awkwardly shaped windows that need a more nuanced approach then you can even check out perfect-fit and honeycomb blinds for your french or patio doors.
So how can we at MakeMyBlinds help?
Firstly, I would point you towards our broad catalog featuring a metric bucketload (or 0.868 imperial bucket loads) of blinds of all kinds to choose from. Our site has easy to use tags and price comparison listings that make it just that little bit easier to choose your perfect blind - ideal if you happen to be in the market for some new blinds, which, if you're reading this sentence, probably means you are.
Secondly, I love to tout our customer service. Following over roughly 1000+ test calls to competitors we are now confident that we are the best in the UK for customer support, ease of communication and out and out knowledge.
Finally but not least, we love window blinds. I know that is the same spiel you get from every company that talks about how passionate it is about manufacturing spark plugs for tractors, but we really mean it. We like blinds so much that it's almost weird. (Please don't judge us).
Whilst we are a fairly new company to the scene, but with hundreds of happy customers to date all over the UK we are sure we can challenge the big online blind monopoly that has caused the industry to stagnate in recent years.
So, with all that said and done, go forth and get the perfect blind for your living room and start living! We hope to hear from you soon, and if not, don't worry, we love you anyway!