In blind-buying lingo, 'tapes' are strips of cotton that run vertically down the blind where the internal strings are, positioned to hide the 'rigging' of your blinds. Despite a rapid increase in popularity, wooden blinds with tapes do still divide opinion, with some stylists appreciating the clean look that comes of housing the cords, while others feel it breaks up the streamlined look of horizontal slats. Here we take a look at the pros and cons of each style, and how each blind differs.
Tapes are made from 38mm wide cotton fabric, matched to the colour of the wooden slat. So for example, our white wooden blinds come with matching white tapes, while our hazel-coloured blind comes with a jet black tape. You get the idea. For the more adventurous, there are also tapes with contrasting colours, that stand out against the blind. White blinds with dark contrast tapes are becoming very popular as more people seek to use their window coverings to make a style statement.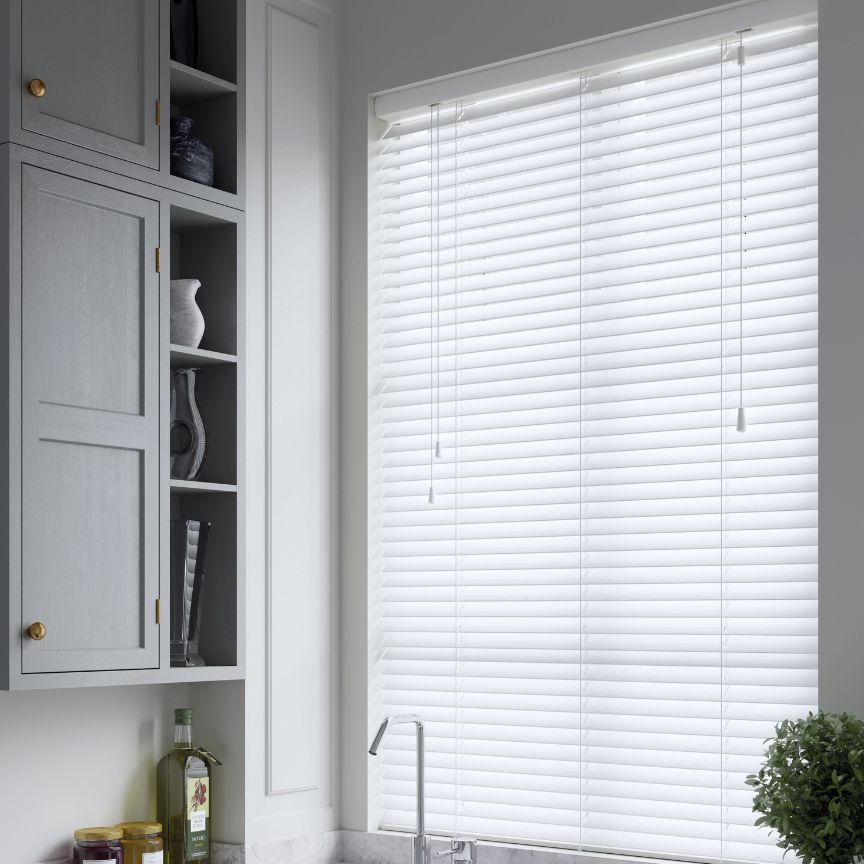 With or without tapes - what looks best?
It's all down to personal choice. Blinds with tapes are becoming increasingly popular, helped in no small way by the many home decor Instagrammers showcasing white blinds with matching tapes in their homes. Tapes add a second material to your blind, which fans of the 'layering texture' trend enjoy. Tapes also conceal the internal cords of the blind which some feel gives a more 'polished' finish. However, no-tape fans like the sleek look of uninhibited slats. Tapes also can make the blind look narrower, so if you're going for a 'picture window' effect or have small windows, you might want to steer clear. It's also worth bearing in mind that cotton is less hardwearing than wood, and more porous, meaning wooden blinds with tapes will require more frequent cleaning.
Try before you buy
Every wooden or faux wood venetian blind on our site comes with or without tapes, giving you the flexibility to choose. But once you've made your choice, you're committed! For taped styles, the cotton strips become part of the blind, helping hold each slat in place, so you can't simply cut the tapes off if you have a change of heart.
If you're unsure, the best thing to do is to take advantage of our free sample service and request the tapes and slats that you want to see. By doing this you will get a better feeling and idea of what each slat and tape combination looks like and how they will work in your home. If you are looking to install these blinds in your bedroom then opting for tapes is one way to make the blinds feel a bit softer, especially if you have a larger window. The cotton tapes give you an easy way to pair your bedroom's furnishings with the blind, making sure that you have a room that is beautifully designed.
How many tapes will there be?
We use the cotton tapes to support the main venetian slats. These are spaced very specifically to ensure that the slats won't bow or sag under their own weight. To find the exact number of tapes for your window size, enter your measurements into the website on any wooden blind product page and click the 'Measurement Check' icon (which looks like a small window) to the top-left of the product image. This will then generate a useful diagram showing the number of tapes and their spacing across the blind. We'll also show you the total size the blind will be made to - just to help ensure you don't order it the wrong way round!
Wooden blinds with tapes
To make things simple for you, we have a page dedicated to our wooden blinds with tapes, where you can see every combination of tape and slat that we have available. For example, we have the real wood beech with hessian tapes, which is perfect for adding a lighter touch to your room and will pair in with any pine or lighter wood you have in your room. We have noticed that wooden blinds for a bay window are more popular with tapes rather than without, possibly because in this style they resemble shutters more closely than blinds without tapes.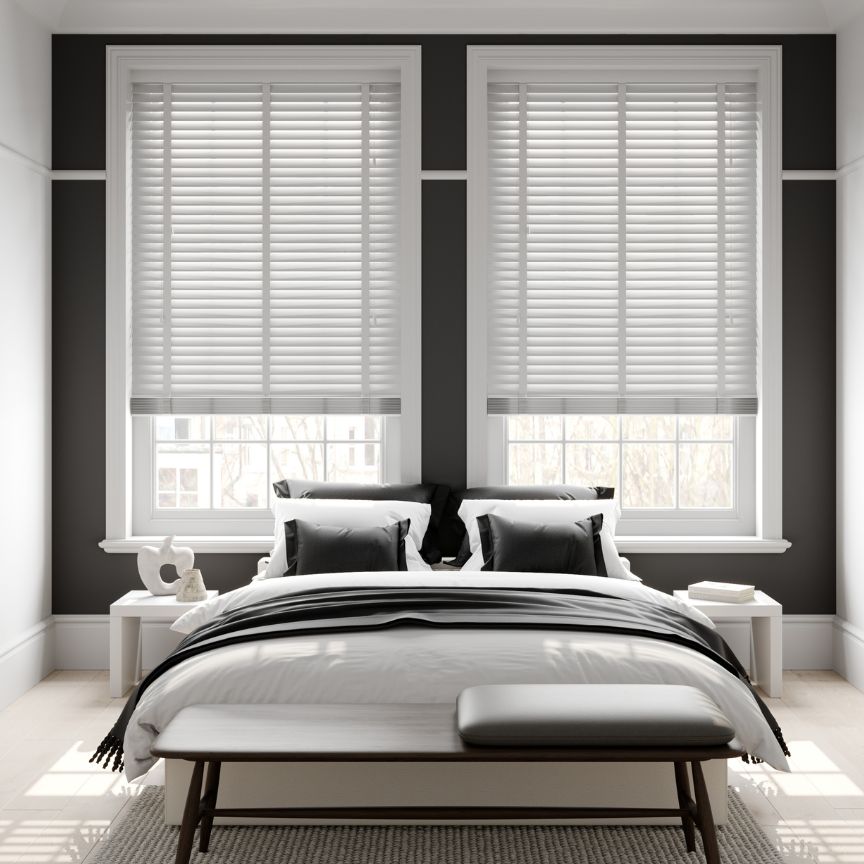 If the blinds with tapes are not taking your fancy then all of our wooden and faux wood blinds come without tapes too. Tapes are down to personal preference, and sometimes in a larger window, the blinds suit a plain, natural look. We just give everyone the option to choose what works best for them. One thing to note is that you can't buy a blind with tapes and then remove them. The tapes form part of the mechanism, helping to control the tilt of each slat and are also used to raise and lower the blind.
Here to help
With blinds or without, if either style has piqued your interest then please have a look across our range. If you have any further questions or need advice on any aspect of wooden blinds, feel free to get in touch with our Customer Loyalty Team, who can advise on all aspects of blind style, ordering and fitting. Find them on Live Chat, give them a call on 0117 457 4242, or get in touch by emailing [email protected]