Each morning you wake up and get ready for your day, leaving your blinds open to capture heat - only to return in the evening and it's all gone. You endure the laborious task to open and close your blinds, but the energy savings are lost at the final hurdle.
All this wasted time and increasing energy costs raises an important question for our readers:
How much do electric blinds cost?
Based on average window sizes in the UK, the starting price for an electric blind is around £100, with the final cost dependent on window sizes, fabric quality, and accessories.
Adding a remote control won't pinch your wallet too much, but full-on automation could add as much as £100 extra for the whole home.
To help you get to grips with the costs, we've broken down each of the factors that go into pricing a brand-new pair of electric blinds:
To find out more, carry on reading below, or skip ahead with one of the above links.
Motors
The unmistakable beauty of natural light shining through your windows elevates the atmosphere of your home and offers an instantly luxurious touch to your décor.
Covering your windows, therefore, requires an equally elegant finish.
Although choosing the right fabric is essential to perfecting any room, it is the powerful motor that makes up the bulk of the cost.
To highlight this difference, here are two of our fabrics priced for a medium-sized window in both the dimout and blackout materials:
There's a small, yet meaningful difference in the price of a blackout lined material, but both fabrics have an uplift of more than £60 if you want to buy the motorised version:
Motors with similar specifications retail at much more, making these prices even more affordable than DIY alternatives.
However, for those of our readers that are interested in making blinds for themselves, we recommend choosing a motor that can handle the weight of the fabric.
To ensure longevity with all the blinds we sell, we always match an appropriate motor within the manufacturer recommended sizes. In this case, all our electric blinds use Cruze® motors.
Here's what they look like:
Fabric Type
High-quality fabrics with their premium linings and textured weaves also contribute to the overall cost of the blind. Prices scale in this same way whether they are manual or motorised blinds.
Below we've provided two pairs of prices to highlight the difference between dimout and blackout fabrics:
Premium fabrics, such as the above with a blackout lining, are consistently more expensive than their dimout counterparts. This extra expense makes sense for bedrooms and nurseries, but you may be happy with the dimout version in your living room or kitchen.
If you're not familiar with the difference between blackout and dimout fabrics, then you may want to read our transparent guide to window opacity.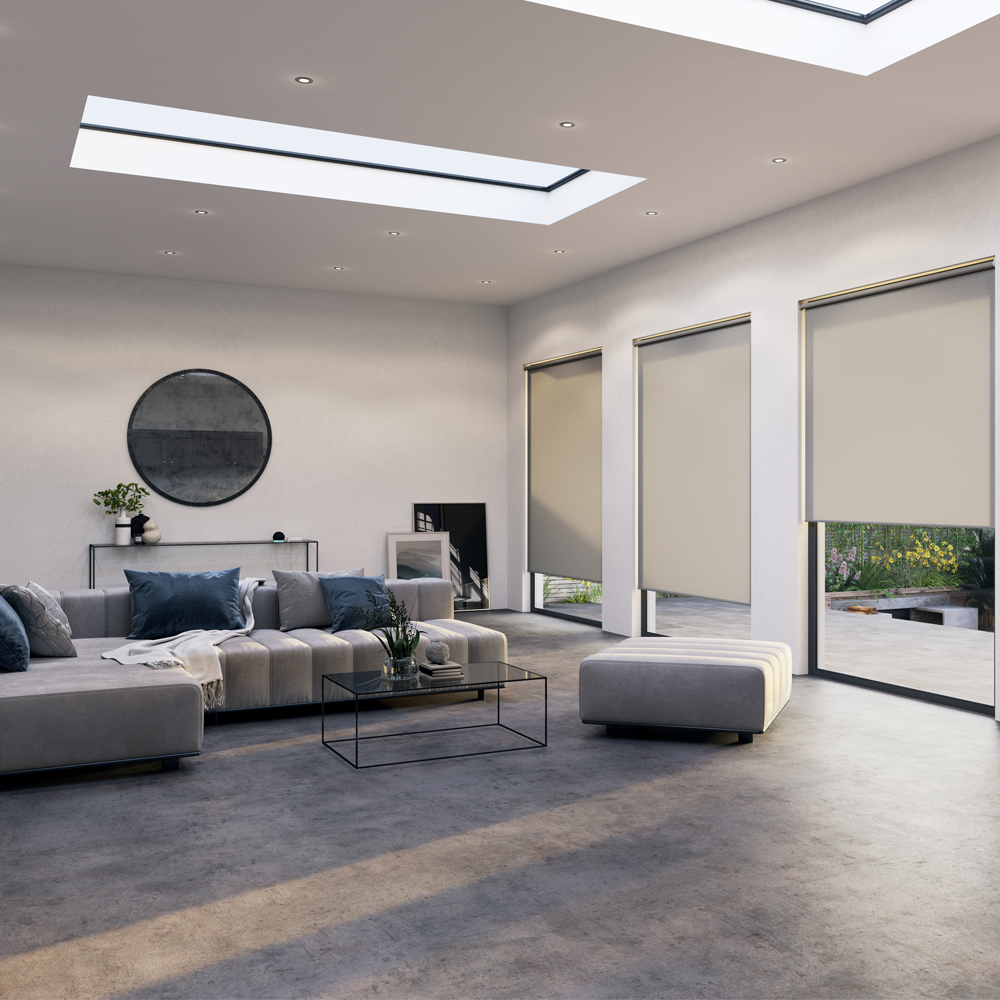 Accessories
Conventional blinds do not benefit from 'accessories' such as remote controls, chargers, or smart hubs. However, they are essential for motorised blinds which lack any manual controls.
Below are the key accessories you may need to consider when purchasing electric blinds:
Charger
Battery powered electric blinds offer a wireless experience but need charging every few months once they run out of energy.
The good news is that you'll only need one charger per household.
Each blind takes up to 6 hours for the battery to be fully charged but will only need charging about twice per year.
| | |
| --- | --- |
| Product | Price * |
| Cruze® Charger | £9.80 |
Cruze® Remote Control
Remote controls offer a cost-effective way to control your blinds, neither requiring a smart device nor a connectivity kit to operate.
We offer two options, but the principles are the same for other brands too:
Cruze® Single Channel Remote
Cruze® 4 Channel Remote
The number of channels on the remote function much like radio stations; each channel is a specific radio transmitted frequency to control the blind.
The single-channel remote can be used to control one blind independently, or up-to eight blinds in unison; a great choice if you only need a single blind or room to be motorised.
Ultimate flexibility is at your fingertips with the 4-Channel remote, which includes four single channels and a group channel.
This remote, like the single channel, can be used to operate up-to eight blinds per channel with the extra functionality to control all the blinds with the group channel. The perfect choice for automating blinds in multiple rooms.
| | |
| --- | --- |
| Product | Price * |
| Cruze® Single Channel Remote | £13.99 |
| Cruze® 4 Channel Remote | £24.99 |
TaHoma Connectivity Kit
Smart devices can also control electric blinds when using a connectivity kit, making it easy to raise or lower blinds through, 'Alexa', 'Hey Siri', or 'Hey Google' commands.
Cruze® blinds are also supported with the Cruze x Somfy application for your smart phone, but still require a remote control to setup. Once fully configured you can control your blinds with the mobile app from anywhere in the world.
| | |
| --- | --- |
| Product | Price * |
| Somfy® TaHoma Connectivity Kit | £79.00 |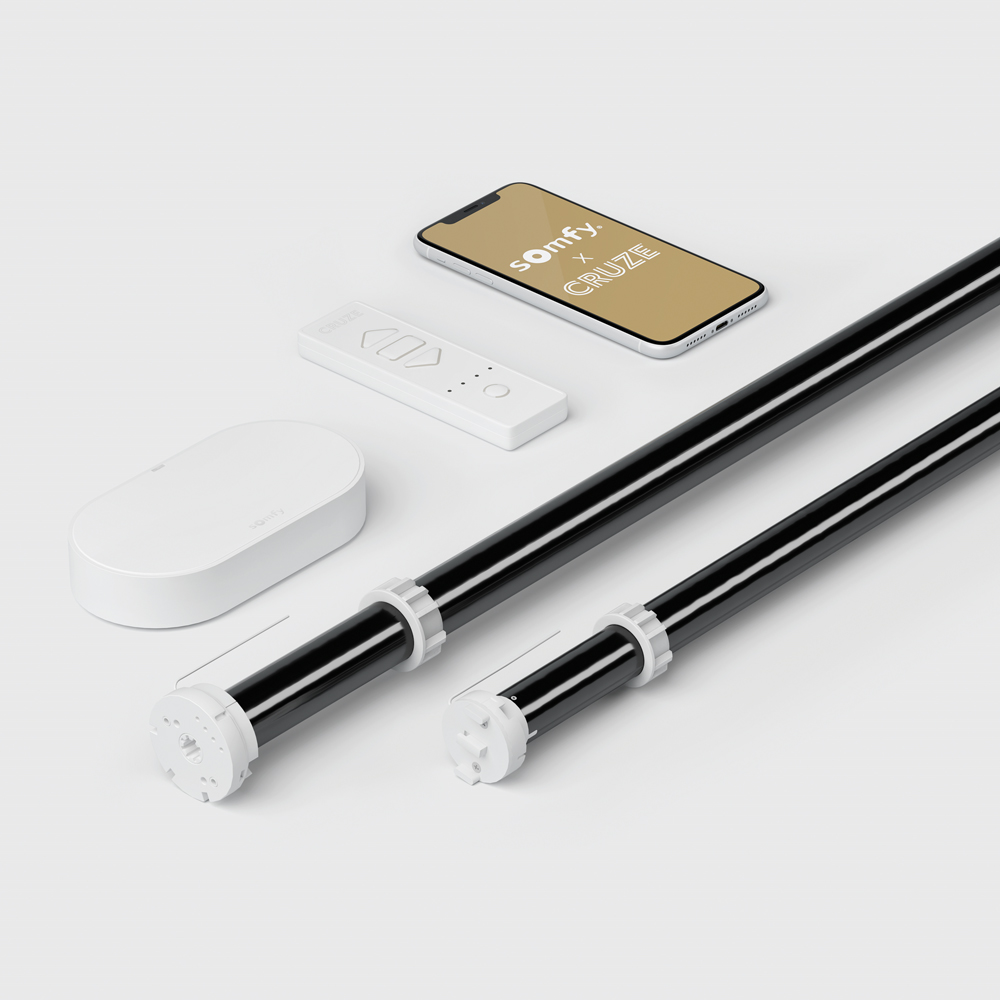 Love All Your Options
That's it from us!
We hope this article breaks down the cost of electric blinds and helps you make the right choice for your home. There are plenty more things consider when choosing your blinds – but hopefully we took you one step closer to your perfect home.
If you did find this article helpful, please consider sharing it and spreading the love.
* All price tables are for illustration purposes only; last updated May 2022.