We often think about changing paint colours or adding new furniture to refresh the look of the room. An overlooked way to transform a space is to invest in new door blinds. Whether you opt for a seamless, timeless design to match your doors or a bold colour to add interest, it's a great way to update your home.
Find the best door blinds for your living space with our helpful guide. We'll take you through everything you need to know about buying for french doors, patio doors, and interior doors. Plus, we'll share the top picks from our made-to-measure blinds for each style.
Best Blinds for French Doors and Bifold Doors
With french doors or bifold doors, it can often feel like your options are limited as you need to make sure you can still slide or fold out each door comfortably. The great news is that with Perfect Fit blinds you can shade each pane independently and keep that all-important movement. They're easy to install with no drilling required, so you can quickly update your living spaces with a fresh new look. 
If you're looking for a simple, more traditional alternative for your sliding glass doors or bifold doors then roller blinds are also a great option. These can be rolled up far enough that you can open folding or sliding doors and step outside. They can also be matched with your window treatments for a seamless look. 
Here are some of our favourite bifold and french door blinds. 
1. Soft White Matt Perfect Fit Blinds
Find the perfect match for your cosy modern kitchen with these Soft White Matt Perfect Fit blinds. These aluminium blinds can be customised to match your frame colour for a seamless look against white or anthracite doors. They're a great choice if you're looking for something simple that will last as you change colour schemes or restyle rooms.
2.Glisten Silver Perfect Fit Blinds
If you're looking to add some magic to your living space, these Glisten Silver Perfect Fit blinds are a great option. The glitterbomb flecks catch the light and add interest to your window coverings, so they're perfect if you're looking for something a bit unusual and unique.
View Glisten Silver Perfect Fit Blinds
3. Kingston Peach Pleated Perfect Fit Blinds
For a more classic-inspired take on the above, try the Amor Soft Peach Perfect Fit Blind. These fabric blinds are a great alternative to a white, grey, or silver aluminium blind for your kitchen or dining room. With this style, light can still travel through when the blind is closed, offering you a warm glow.
4. Arrow Head Grey Blinds
Add interest to your modern, scandi-inspired room with the Arrow Head Grey Blind. These geometric roller shades are ideal for covering french doors and balcony doors, and work great in both living spaces and bedrooms. Opt for the waterproof fabric for long-lasting toughness in a family kitchen, or the blackout version to keep your bedroom or conservatory cool throughout summer.
5. Laurus China Blue Roman Blinds
Complement your modern living spaces with a soft blue roman blind. Made with blackout fabric, these patterned blinds would be ideal for keeping your garden-facing living space or conservatory cool and comfortable in the warmer months. They're wipe-clean too, giving you and your family both style and practicality.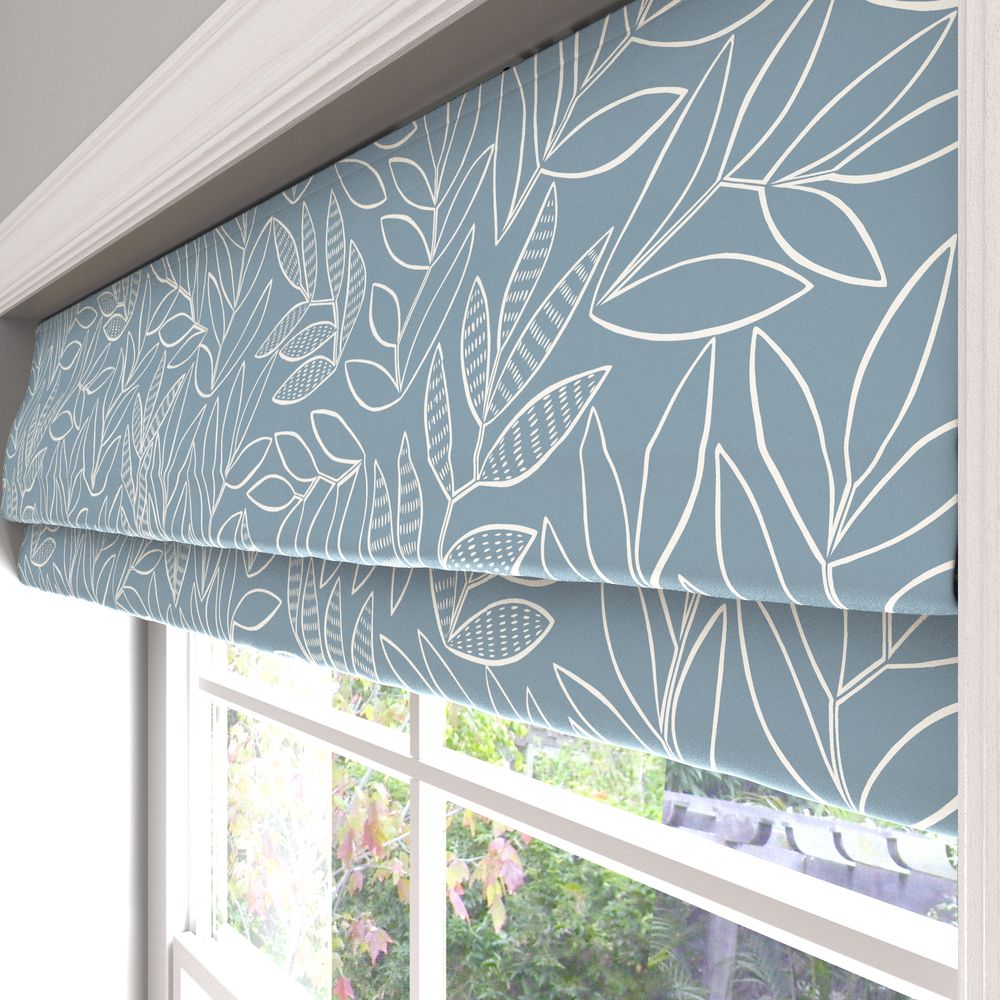 Best Blinds for Patio Doors
Like french doors and bifold doors, perfect Fit blinds are also a great option for patio doors. As they fit directly into the frame of the door you don't need to worry about closing them to one side before you can open your door. This makes it quicker for you to hop outside and enjoy the sun in your garden. You can also use these blinds on a conservatory to create a unified look across your living space.
If your garden is overlooked and you're after some much-needed privacy for your back doors, Day and Night blinds could be the ideal alternative to voile. These blinds feature an innovative design that combines light flow and privacy, with the ability to easily switch between the two. These can be fitted above your patio doors and rolled up to provide easy access. Patio door blinds are a great alternative to heavy curtains or drapes, and can create a unified look across your home with matching window shades.
Take a look at some of our best blinds for patio doors. 
1. Graphite Perfect Fit Blinds
These are an ideal match for stunning, modern anthracite patio doors. They also work well against a white uPVC door to add depth and interest. These aluminium blinds are water resistant and stand up well against humidity, making them perfect for a sunny South-facing kitchen or living space.
2. Ash Rose Honeycomb Perfect Fit Blinds
Add some warmth and colour to complement your Scandinavian-inspired kitchen or living room with these. This soft, warm colour is a lovely alternative to a white or dark grey, and works well alongside those ever-popular navy kitchens. Made with blackout fabric, these honeycomb shades are a great choice for keeping your living space or conservatory comfortable throughout summer. 
3. Real Wood Cedar Perfect Fit Blinds
These Real Wood Cedar Perfect Blinds are a great way to warm up your space and make it feel cosy. As they're easy to install, you can change the look of your kitchen, dining space, or living room quickly and easily. Match the colour with our venetian window blinds and create a unified look across your home. 
4. Day & Night Woven Pure Blinds
Get the best of both worlds with the Day & Night Woven Pure Blinds. Effortlessly switch between allowing light in and keeping your privacy by opening and closing the blinds. These off-white natural woven blinds are great at light filtering and light control, as you can customise how much light you receive. When you want to head outside, roll it up and you're ready to enjoy the outdoors. 
5. Day & Night Brushed Driftwood Blinds
Add some texture and interest to your patio doors with the Day & Night Brushed Driftwood Blinds. The delicate black and white pattern gives these light filtering shades their unique look, while the combination of light flow and privacy makes them perfect for overlooked patio doors. 
Best Blinds for Interior Doors
Having interior doors filled with glass can really make your home feel bright and inviting. Sometimes, though, you'll want to block out some of that natural light — whether that's to get cosy and watch a film or seek out privacy in your home office. 
Interior door blinds are the perfect way to add privacy and reduce the light streaming in through a door acting as a room divider. Whether you opt for a simple yet smart easy to fitperfect fit roller blind or a perfect-fit wooden venetian blind, there are plenty of options to match your interior style. Unless you don't need to open your blind, opt for horizontal rather than fabric or wood vertical blinds. Interior door blinds also work well for front doors where there's a lack of privacy, or where the sun streams in too much.
One of the biggest considerations when buying interior door blinds is how easy it'll be to use the door handle. To avoid problems, look for a blind that's fitted close to the door. And if you're worried about the noise of blinds moving as you open and close doors, don't panic — hold down brackets can be installed to keep them in place.
Find the Perfect Door Blinds for Your Home
Now you know what's out there and how to buy the right blind type for your patio doors, french doors, or interior doors, you can start imagining your newly refreshed space. Think about which colours and materials work for you, then narrow down your selection and order samples. 
To help you find the perfect match for your doors, add a few different options to your free samples basket. You can then place an order and review your choices at home to see how they'll complement your interior style and door colours.