A popular choice across the pond in the United States and a growing demand here in the United Kingdom, what is the secret behind the recent success of pull-down blinds?
Let's start with what they are.
The name is literal, albeit uninspired; a pull-down blind is one that is opened and closed by pulling the blind down rather than lowering it with a chain or cord. Here on our website, we classify these as cordless blinds, and they are one of many choices for our customers.
In this article, we want to take you through the advantages and disadvantages of this style and consider some alternative cordless options available.
To find out more, read below or skip ahead with one of the above links.
Why choose pull-down blinds?
The benefit of a pull-down blind is that they don't require cords. Typically, there are only two reasons for choosing them: child safety or personal preference.
The biggest reason people choose pull-down blinds is that cords and chains are a choking hazard for young children. However, in the United Kingdom, all blinds must meet British Safety Standard EN13120, a regulation aimed at minimising the danger to children.
We're happy to say that all our blinds meet this requirement and include a child safety device. We always recommend the child safety clip must be installed.
Another reason to buy pull-down blinds is simply that you prefer them. This may be because you don't like the sight of chains, or the window is too hard to reach. In either case, cordless blinds are a great choice.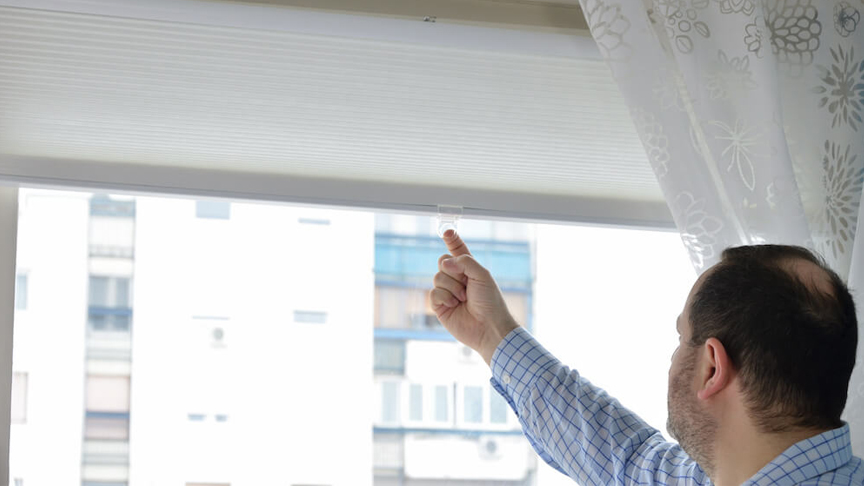 Types of Pull-Down Blinds
Child safety is at the heart of what we do as a company, which begs the question of why we don't replace our entire collection with only cordless alternatives?
The answer is simple; there isn't a single design of blind that works for every person. Rather than removing the choice from customers, we want to provide the best information possible to make an informed decision.
Below you'll find details on all the different styles of cordless blinds.
Spring Loaded Roller Blinds
The most popular design is a spring-loaded roller blind, sometimes referred to as a tensioned roller blind. Inside the roller is a spring that tensions as the blind is pulled down.
Frequently manufactured with a tab or short string with a toggle at the end at the centre of the bottom bar, these roller blinds pose less risk than chains and cords.
Advantages
The primary benefit of a spring-loaded roller blind is that it will assist you when closing. You will notice it most with larger windows when the tensioned spring does most of the heavy lifting.
Compared to the other options on this list, a spring-loaded roller blind is one of the most affordable solutions for budget-conscious buyers.
Disadvantages
By far the biggest drawback to this design is the spring tensioning.
The spring will regularly catch or lose tension because the blind has been opened too many times or children have been playing with it.
To fix you will need to take the blind down and re-tension or replace the spring. This process doesn't take too long, but it's one of the major criticisms of spring-loaded designs.
Note: For this reason, we do not currently stock spring-loaded roller blinds and recommend some of the alternatives below.
Electric Blinds
Instead of selling spring-loaded roller blinds, we sell electric roller blinds. Both options are cordless, but we found that a motor lasts much longer than springs.
The blinds are battery-powered and can be connected to smart devices or remote controls, making them accessible for most households.
Advantages
Electric blinds are entirely cordless, making them child safe and extremely useful for people with mobility issues.
For our technophiles, connectivity hubs are available to control via electric blinds via smartphones or Google, Amazon, and Siri commands.
If you're not as savvy with tech, we also sell remote controls that will feel more familiar.
Disadvantages
By far the biggest deterrent to most people is the cost of electric blinds. We wrote a comprehensive breakdown of the cost of electric blinds. The starting price is roughly £100 - £150 per window, which makes it expensive to do the whole house.
Since the blinds are battery-powered and not plugged into a mains socket, they will need to be charged once every few months (depending on usage). For a hard-to-reach window, it may be too difficult to charge the blind frequently.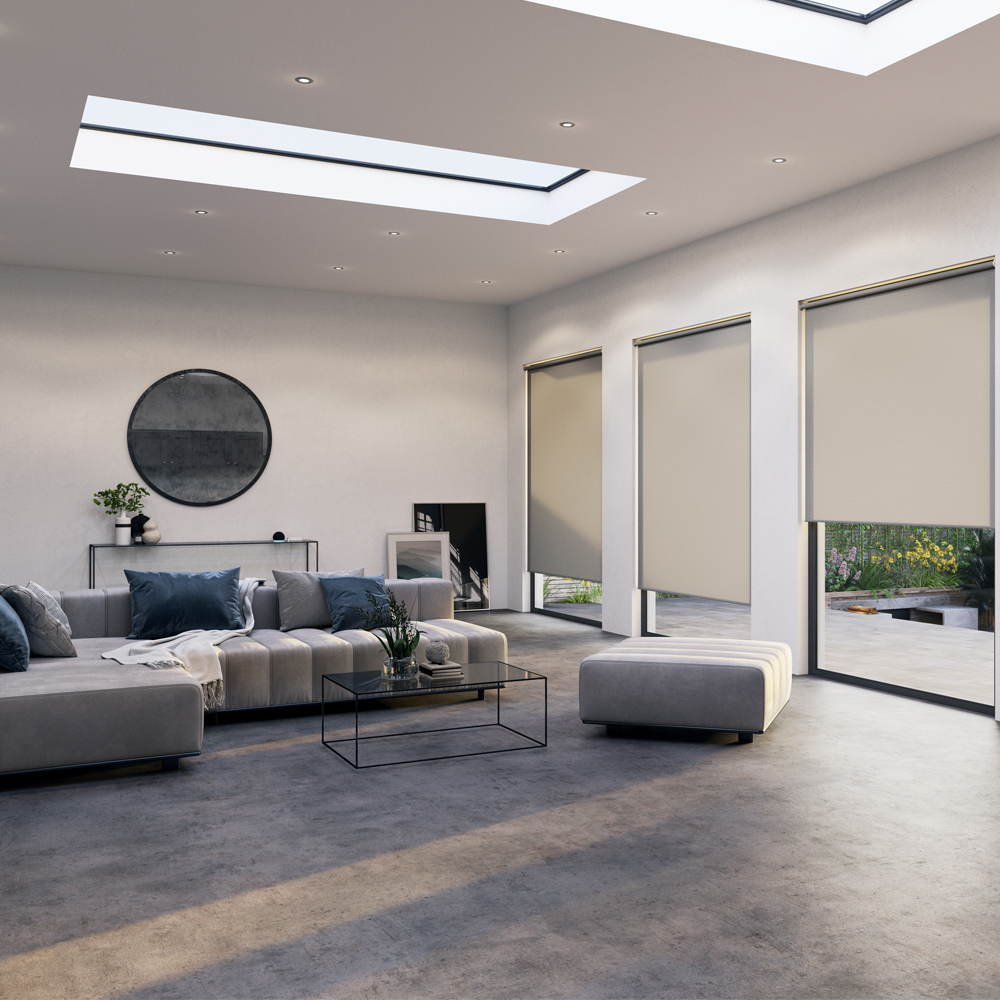 Pleated Blinds
Across the industry, there are two ways that you can install a pleated blind:
A free-hanging blind refers to one that is installed in the top of a window recess and is controlled by cords – no good if you're looking for a cordless design.
Instead, you want to look for a pleated blind that is advertised as tensioned. When a blind is considered tensioned, it means that it includes cables installed on either side to prevent movement. Rather than using cords for controls, it has a tab which can be either pulled down from the top, pulled up from the bottom, or a combination of both.
Advantages
Pleated blinds, particularly with a honeycomb or cellular pattern, are great at creating a barrier between the window and the rest of your room. The fact that they improve energy efficiency has led to the increasing popularity of pleated blinds, especially throughout Europe.
Disadvantages
Installing these blinds will require drilling holes into the top and bottom of a window recess, which makes them unsuitable for rented apartments.
Aside from being unsuitable for some homes, they're one of the more complicated window coverings you can choose from because of their many options. For a cordless design, you're looking for a tensioned installation.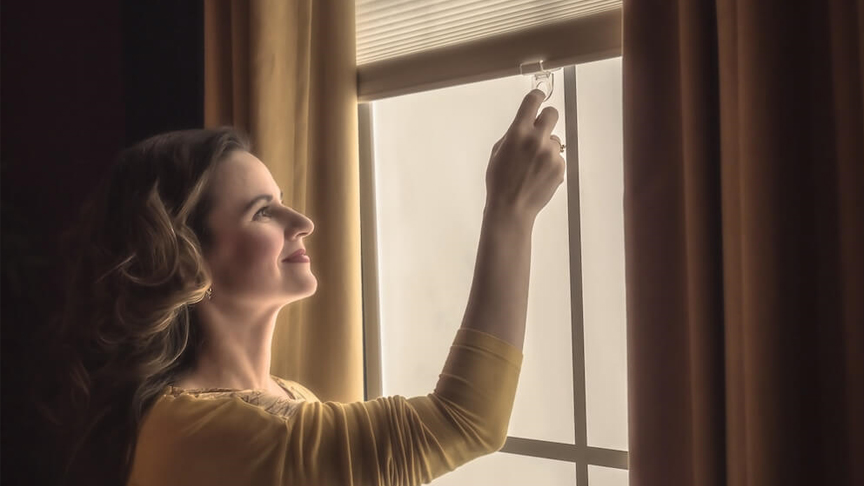 Perfect Fit Pleated Blinds
If you like the sound of a pleated blind but don't want to drill into the wall, ceiling, or floor, a perfect fit option is a possible solution.
A blind is usually referred to as a perfect fit because of the frame that mounts directly to the window glazing. This helps to eliminate excess lighting around the edge of the blind.
The good news is that all perfect fit pleated blinds are tensioned, so they're suitable if you want a cordless installation.
Advantages
The Perfect Fit frame can be installed directly onto uPVC windows and doors without any drilling, making them suitable for most modern homes.
Thanks to their frame being installed onto the glazing, as opposed to the recess, they're particularly great for tilt and turn windows or large conservatory glass.
Disadvantages
Whilst suitable for most glass types, the perfect fit frame may interfere with certain types of doors. For example, some bi-fold doors might not close fully.
They're also only suitable for modern windows with rubber beading around the edges. The brackets slide between the glass and this rubber beading, so if it's not present, you won't be able to install any of the perfect fit options.
Browse Perfect Fit Pleated Blinds
Perfect Fit Wooden Blinds
Most wooden blinds are unsuitable for cordless installation because they include multiple cords to open and close the blind and the angle of the slats.
That's not the case if you choose to go with perfect fit.
Instead of having a cord to raise and lower the blind, they come with a pull-down tab at the bottom. Then the slats are controlled by a wand to make them completely cordless.
Advantages
If you would like to have a wooden blind without the cords, then this is the best solution. They're easy to install and require no drilling.
Disadvantages
Like the other perfect fit options, these are only suitable for modern windows with rubber beading. Due to the frame, these may not be suitable for sliding or bi-fold doors.
All our options are made from real wood, making them susceptible to warping in extreme damp or hot conditions. This means they're not best suited to bathrooms, kitchens, or conservatories.
Browse Perfect Fit Wooden Blinds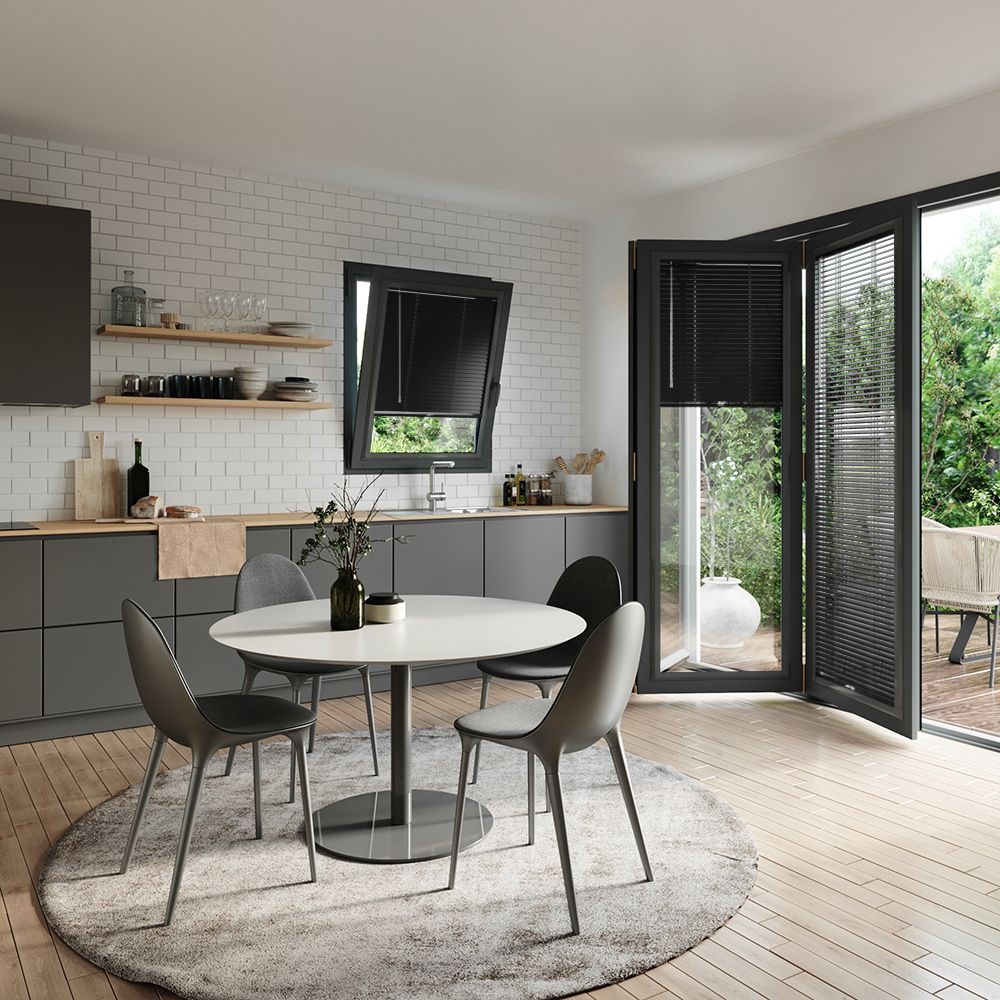 Perfect Fit Venetian Blinds
Functionally the same as the wooden variety, the main difference is that our perfect fit venetian blinds are made from aluminium. Able to withstand moisture and heat, this offsets some of the weaknesses of a wooden material while retaining all the benefits.
Advantages
A perfect fit venetian blind is completely cordless and a little lighter than the wooden counterpart. They require no drilling and fit directly to the window glazing.
Aluminium slats are perfectly suited for damp environments and won't warp easily, making them more suitable for bathrooms, kitchens, and conservatories.
Disadvantages
Most modern windows will include rubber beading, but if you have an older window, then all of the perfect fit options are unsuitable.
Browse Perfect Fit Venetian Blinds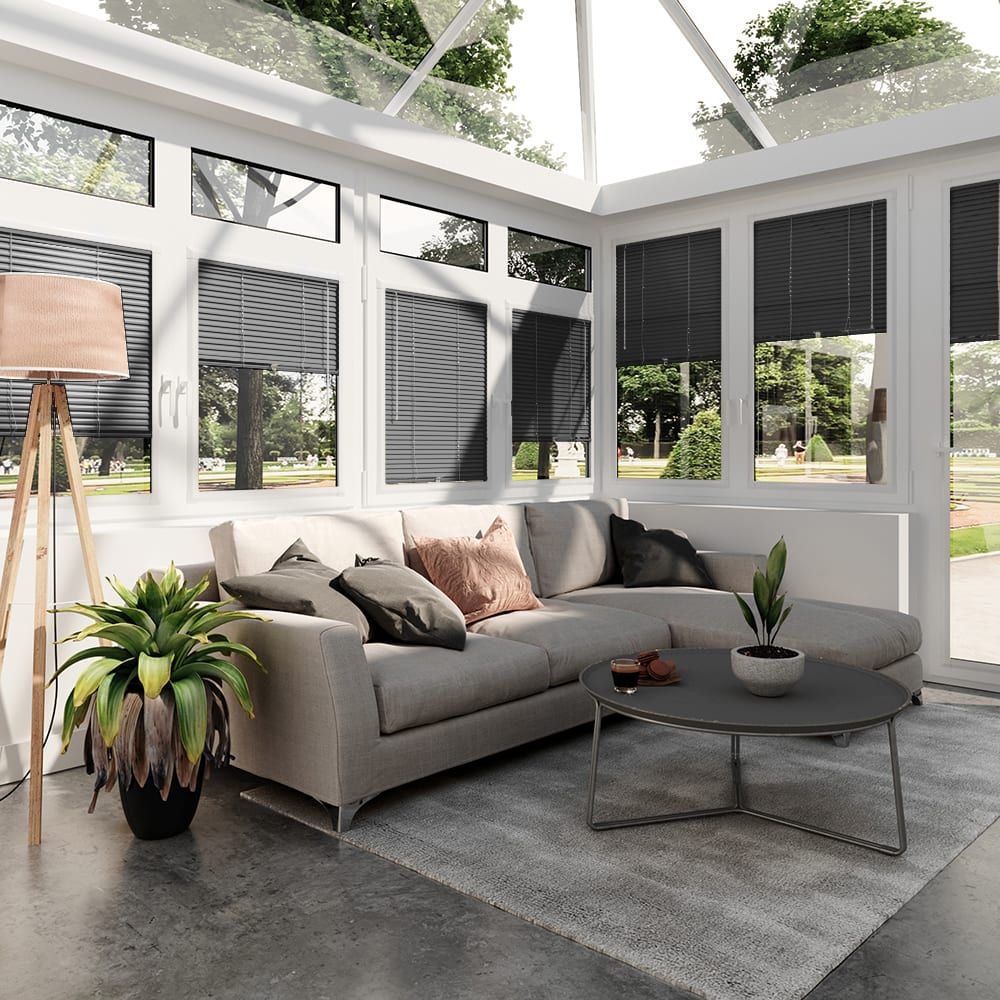 Love All Your Options
That's it from us!
We hope this article clarifies our pull-down options and helps you to make the right choice for your home. There are plenty more things to consider when choosing your blinds – but hopefully, we took you one step closer to your perfect window.
If you did find this article helpful, please consider sharing it and spreading the love.