TikTok might be a relative newcomer to the social media scene, but it's rapidly become one of the world's biggest sources of interior design inspiration.
From Madrid to Malibu, London to Los Angeles, millions of users are turning to the platform to share their DIY hacks, home makeover projects and favourite purchases with audiences all looking for the latest share-worthy trends.
Whether it's switching out your tired old furnishings for brand new living room blinds or bedroom curtains, or you're decorating your new house with neutral tones and need grey blinds to match, you want it done quickly so you can spend less time messing around and get on with your life and TikTok provides plenty of inspiration or the interior you want.
But which of this year's biggest interior design trends are the most popular on TikTok? Our experts have analysed global viewing figures to bring you the answers.
With Over 360 Million Views, Vintage Furniture Is Named TikTok's Most Popular Interior Trend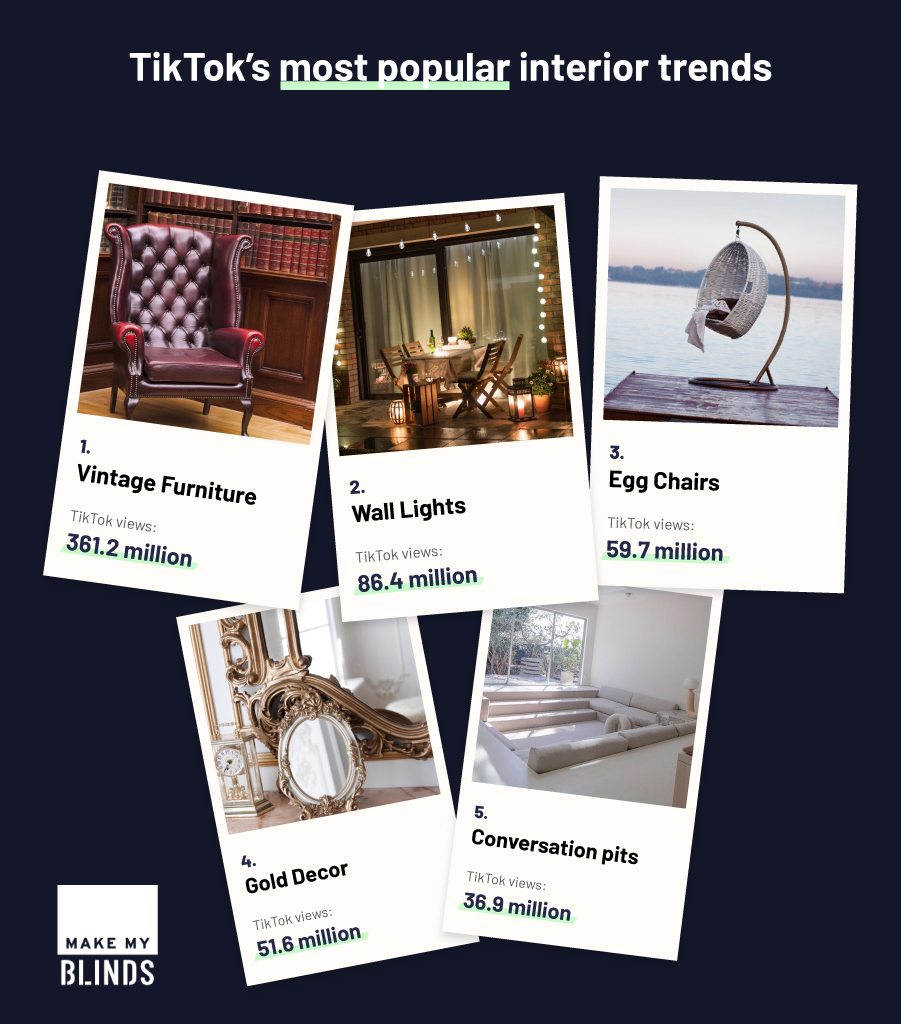 1. Vintage Furniture - 361.2 million TikTok views
By far the biggest interior trend of the ones we looked at on TikTok is vintage furniture, clocking up an astonishing 361.2 million views on the platform. The trend has skyrocketed in popularity this year as eco-conscious homeowners are looking to spruce up their spaces with a unique, retro flair by swapping mass-produced modern furniture for quirkier vintage pieces.
2. Wall Lights - 86.4 million TikTok views
Up next are wall lights, with this trend reaching a whopping 86.4 million views on TikTok. Wall lights have surged in popularity this year thanks to the broader trend of adding fixtures with unusual design elements, highlighting the decorative aspect of a fixture usually thought of as purely functional.
3. Egg Chairs - 59.7 million TikTok views
These iconic chairs take third place among the studied trends, with 59.7 million views on TikTok. First designed in the 1950s, this quirky and timeless piece of furniture is bound to add an air of mid-century modern style to any space. Egg chairs provide the perfect spot for curling up and relaxing, and their unique shape, influenced by wingback chairs, offers some built-in privacy, too.
4. Gold Decor - 51.6 million TikTok views
Taking fourth place in our line-up of the top TikTok interior trends is gold decor, with more than 51 million views on the platform. This trend follows the broader shift away from cooler tones to warmer ones when it comes to decor and complements spaces with a more neutral colour palette. Users love how the rich, luxurious hues of gold decor add a real touch of glamour to spaces of all shapes and sizes.
5. Conversation pits - 36.9 million TikTok views
Thanks to renewed interest in 60s and 70s interiors and the rising popularity of socialising at home, conversation pits place fifth for the interior design trends we looked at on TikTok. The quirky feature of built-in seating sunk into the floor brings people closer together than conventional furniture, so it's no surprise it has nearly 37 million views on the platform.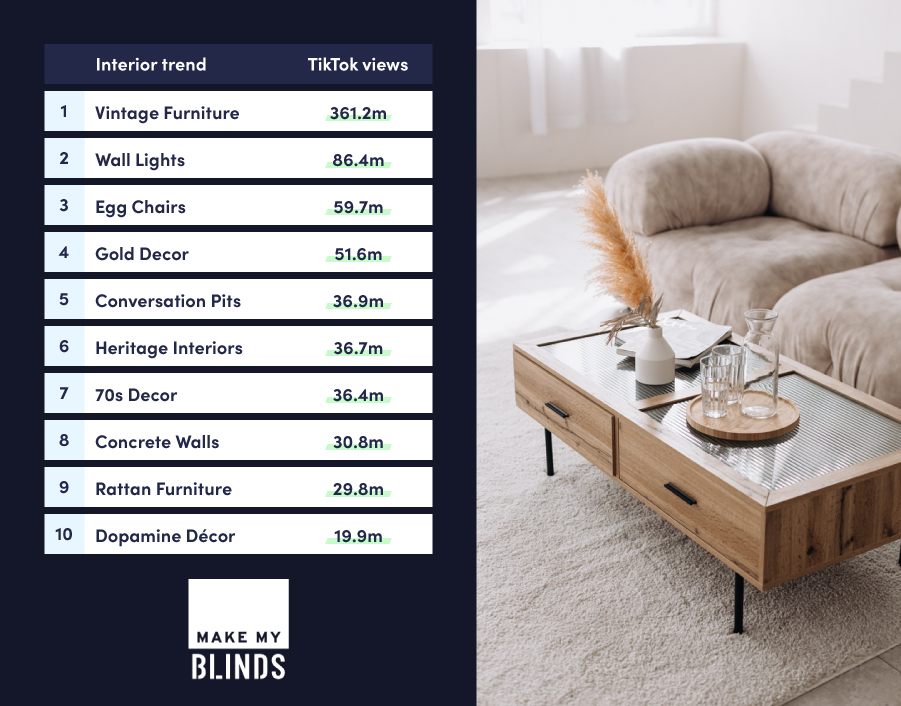 Gothic Sculptures Has Been Named The Least Popular Interior Trend On TikTok, With Just Over 9,000 Views.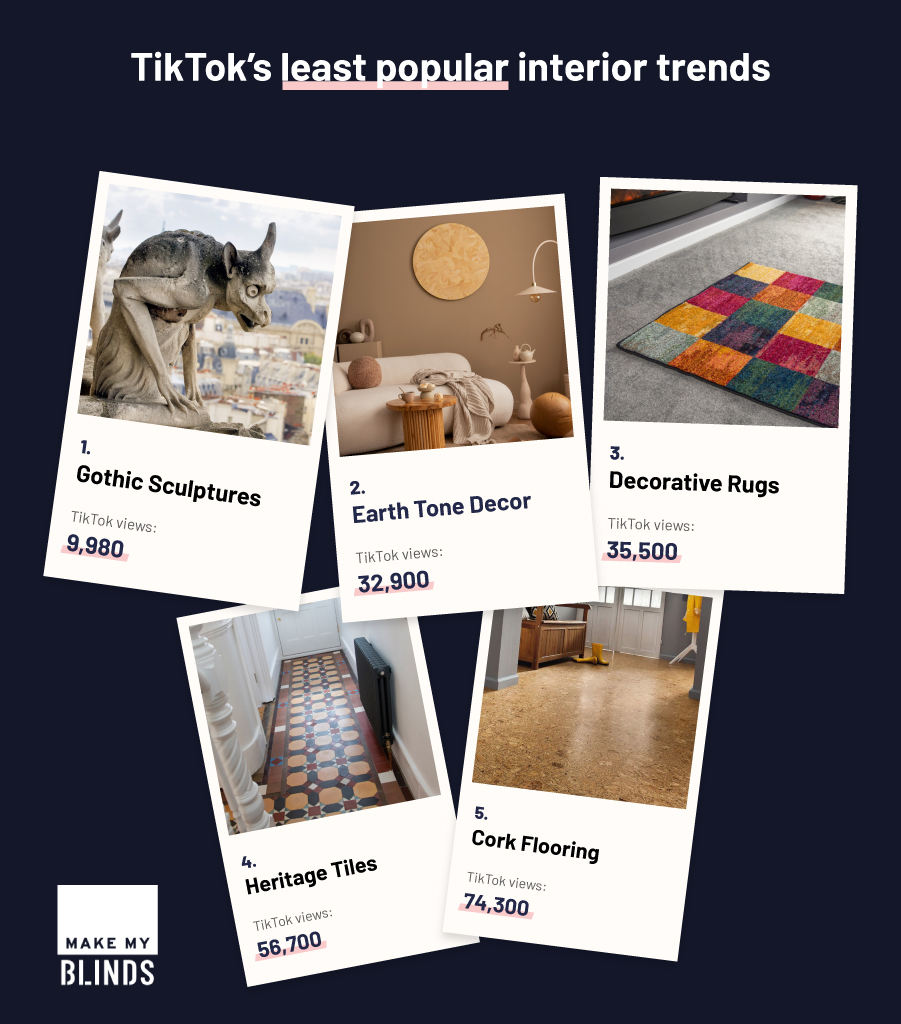 1. Gothic Sculptures - 9,980 TikTok views
Despite gothic-inspired decor making something of a comeback in 2023 as people are looking to add the boldness and drama of rich, atmospheric colour schemes and quirky personal touches to their spaces, one aspect of the trend, gothic sculptures, performed poorly on the platform. This decor trend only has 9,980 views on TikTok.
2. Earth Tone Decor - 32,900 TikTok views
Earth tones skyrocketed in popularity during the pandemic thanks to the calming effect of neutral colours and their connection with nature. However, when it comes to furnishings like ceramics, this colour scheme is one of the least popular of the interior trends on TikTok as the platform's users are more interested in showing off quirkier and more unusual decor trends. So it only clocks up just under 33,000 views.
3. Decorative Rugs - 35,500 TikTok views
Eye-catching decorative rugs can add a touch of colour and texture, livening up a space and tying all the different decor elements together. What's more, they're great at making a space feel warmer and cosy. But the trend for these personality-packed furnishings has failed to take off on TikTok. Decorative rugs take third from last place for the trends we looked at, with only 35,500 views on the platform.
4. Heritage Tiles - 56,700 TikTok views
In fourth place as the least popular trend are heritage tiles. Whether they are vintage-inspired or reclaimed, these patterned decorative tiles can add a touch of understated luxury to a kitchen or bathroom. However, the trend performs poorly on the platform, with only 56,700 views which could be due to the platform's younger audience who are more willing to experiment with decor rather than relying on traditional styles.
5. Cork Flooring - 74,300 TikTok views
Thanks to its eco-friendly credentials, including its heat-insulating properties and how easy it is to source sustainably, cork flooring has risen in popularity as a decor trend in 2023. However, when it comes to its popularity on TikTok, cork flooring falls far behind the other trends studied with just over 74,000 views.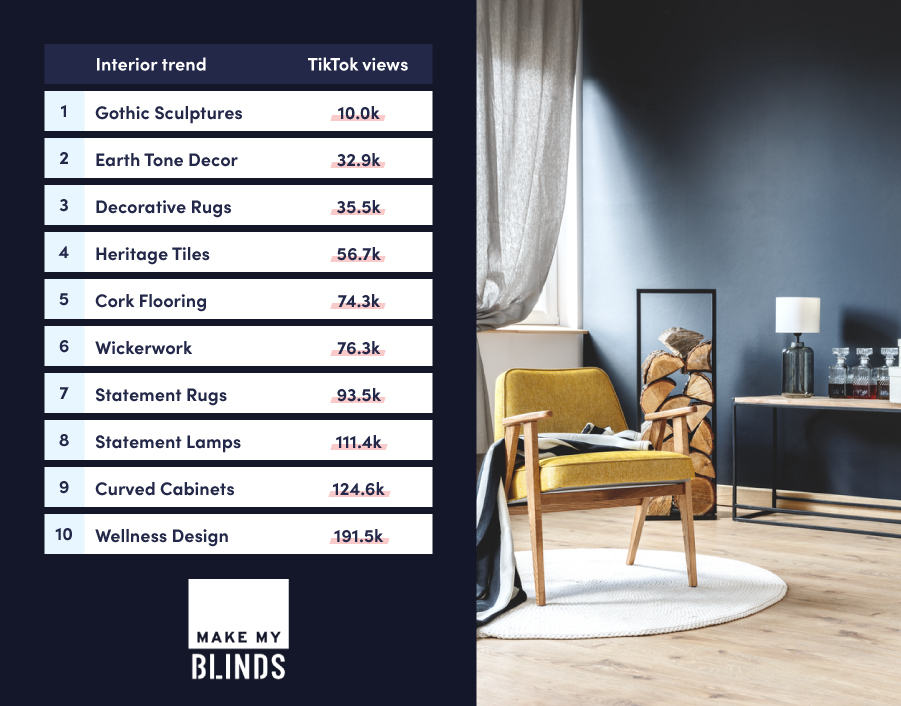 Red Takes The Crown As The Most Popular Colour On TikTok, With Over 66 Million Views.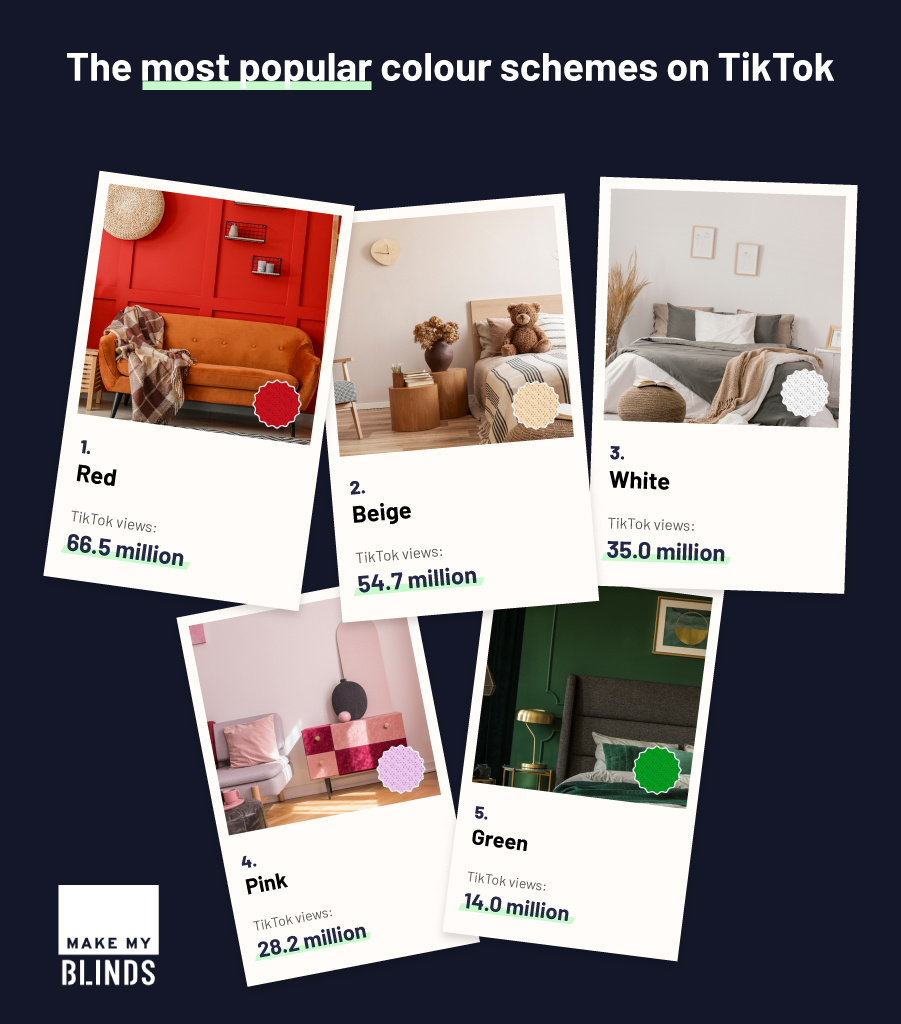 1. Red - 66.5 million TikTok views
Red is the most popular of the interior colour schemes we looked at on TikTok, with richer deeper shades being the most popular among interior designers this year. These bold hues add a sense of excitement and energy to a space, although with hot colours like red, it's best to use sparingly, as highlights. The colour scheme has more than 66 million views on the platform.
2. Beige - 54.7 million TikTok views
With the Japandi interior trend, which stresses the importance of natural colours here to stay, it's no surprise that beige is the second most popular interior colour scheme of the ones we studied. Warm neutrals like beige work well with most colours, making it easy to style too, and its calming effect makes it perfect for bedroom colour schemes.
3. White - 35 million TikTok views
As well as making a room appear larger, neutral white colour schemes can create a clean minimal look and promote calm and focus too. They are also incredibly versatile and easy to style, making them a great choice for pretty much any interior style you're going for. Thanks to this versatility, white colour schemes have an impressive 35 million TikTok views.
4. Pink - 28.2 million TikTok views
Up next is pink, with the colour scheme racking up more than 28 million views on the platform. The growing interest in maximalist interior design and "Barbiecore" has brought hot pink colour schemes into the spotlight this year. Soft pinks also work well as an accent to other neutral colours and darker blues, too.
5. Green - 14 million TikTok views
Taking fifth place is green, with delicate pastel greens like pistachio and sage being the most popular shades this year thanks to their retro connotations. Green colour schemes are a popular choice for bathrooms as they can be paired down for a calmer, fresher look. Of the trends we looked at, green has 14 million TikTok views as a colour scheme.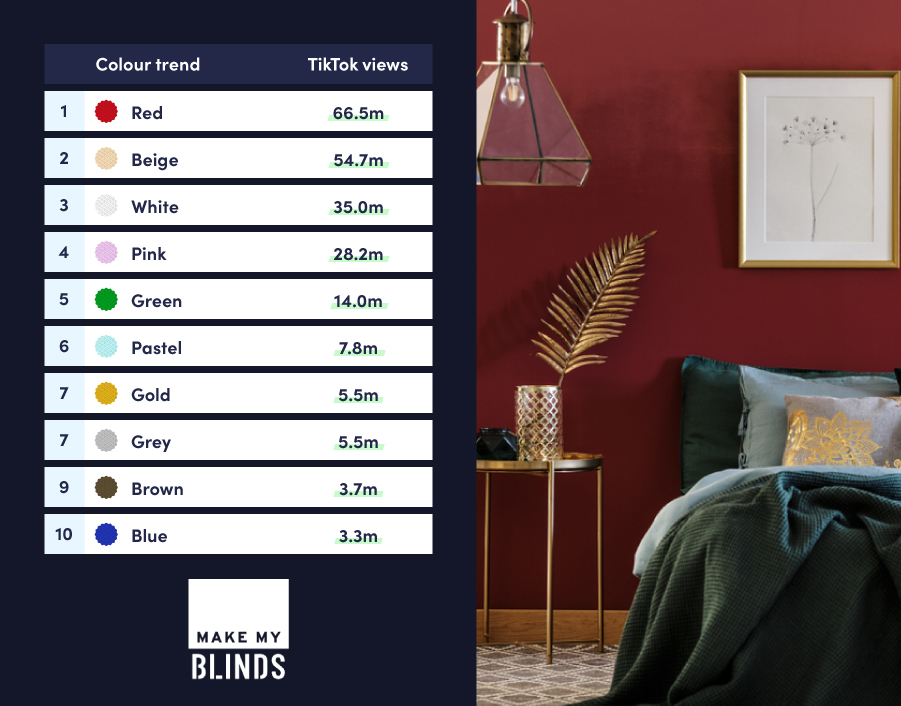 The Least Popular Colour On TikTok Is Taupe, With only 204 Views.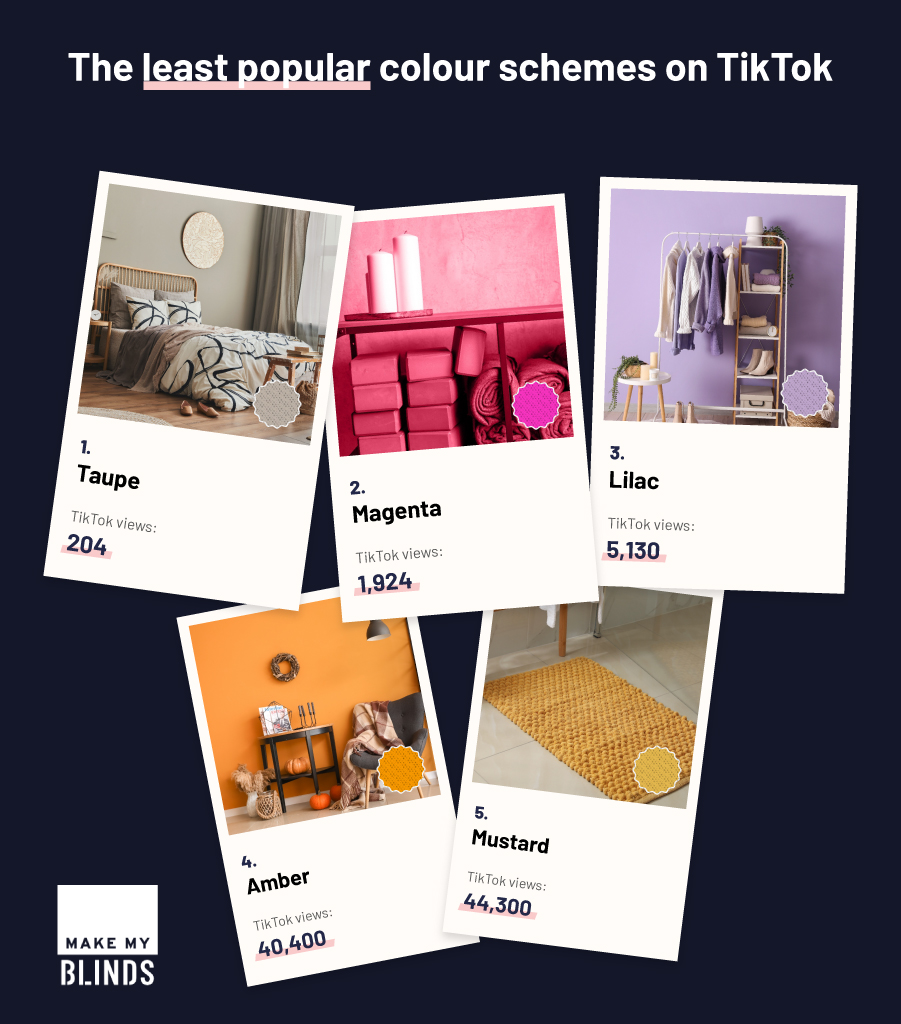 1. Taupe - 204 TikTok views
Despite 70s interior design making a comeback this year with its emphasis on bold and darker organic shades, warm brown colour schemes like taupe have proved unpopular for the colour schemes we studied on TikTok. The colour scheme has only 204 views on the social media platform.
2. Magenta - 1,924 TikTok views
Even though a shade of magenta was named Pantone's 2023 colour of the year, users showing off their interiors on social media have avoided using this colour scheme to decorate their homes. The vivid mix of pink and purple has only slightly less than 2,000 TikTok views.
3. Lilac - 5,130 TikTok views
Up next is lilac, with the dusty purple hue ranking as the third least popular colour for the interiors we studied on TikTok. This is surprising as Digital Lavender, a similar shade of purple, was recently named 2023's colour of the year. The soft pastel shade evokes calmness and goes hand-in-hand with the new trend for dopamine decor, which uses interior design to inspire happiness. However, lilac interiors only have just over 5,000 views on TikTok.
4. Amber - 40,400 TikTok views
Amber colour schemes are often associated with energy and vitality. However, this bright warm colour scheme is proving unpopular this year, ranking fourth from last place for the colours we looked at and only clocking up 40,400 TikTok views.
5. Mustard - 44,300 TikTok views
Taking fifth place is mustard, with colour schemes using this bold shade of yellow only racking up slightly more than 44,000 views on TikTok. Mustard is unpopular as striking the right balance between its brightness and warmth, without taking away from the overall impact of the interior, can be very difficult.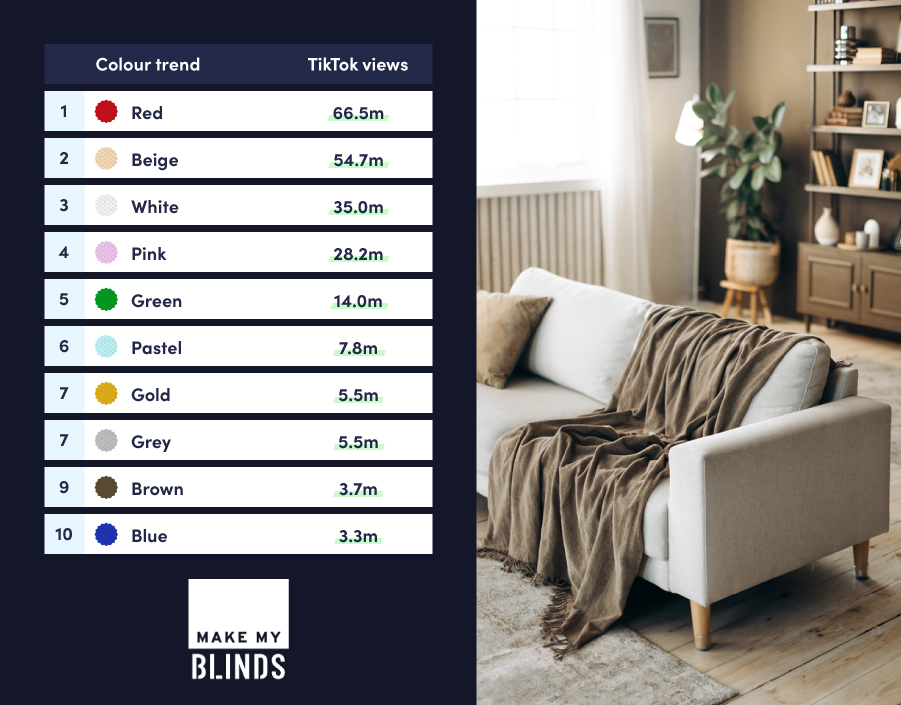 Find the blinds and curtains you need in 30 seconds
With so many colours and styles to choose from, depending on the type of room you're looking to redecorate and the window you'd like to cover, finding the right blinds or curtains to suit your interior can be a daunting task. So if you're stuck, take our 30 second assessment to find out which blinds and curtains are right for you.
Methodology
Beginning with a list of the most popular interior design trends and interior colour schemes in 2023 taken from list articles from publications including HouseBeautiful, Vogue and Good Housekeeping for interior trends and Country Living, HouseBeautiful, and Elle Decor for colour schemes.
We then recorded the total number of views for each trend on TikTok using the hashtags #[interior design trend] and #[colour]interior.
Note: while we've used the above articles to create a representative sample of trends, the list isn't comprehensive and there may be some more or less popular trends not included in the research.
Data was collected on 07/06/2023.