Installing window treatments in your home will breathe new life into any design. Window dressings can instantly change a room or elevate an existing design to new heights. Best of all, installing window treatments isn't a complicated task. That means you can dramatically change the look of your home without a lot of effort — simply by installing new blinds.
But for many people, choosing the right blinds and curtains can be intimidating. After all, there are so many gorgeous designs to choose from! Plus, designs in magazines pair both window blinds and curtains together, making a cohesive design even trickier. But in this handy guide to using blinds and curtains together, you'll find quick tips for a beautiful home design featuring multiple window treatments.
How to Use Blinds and Curtains Together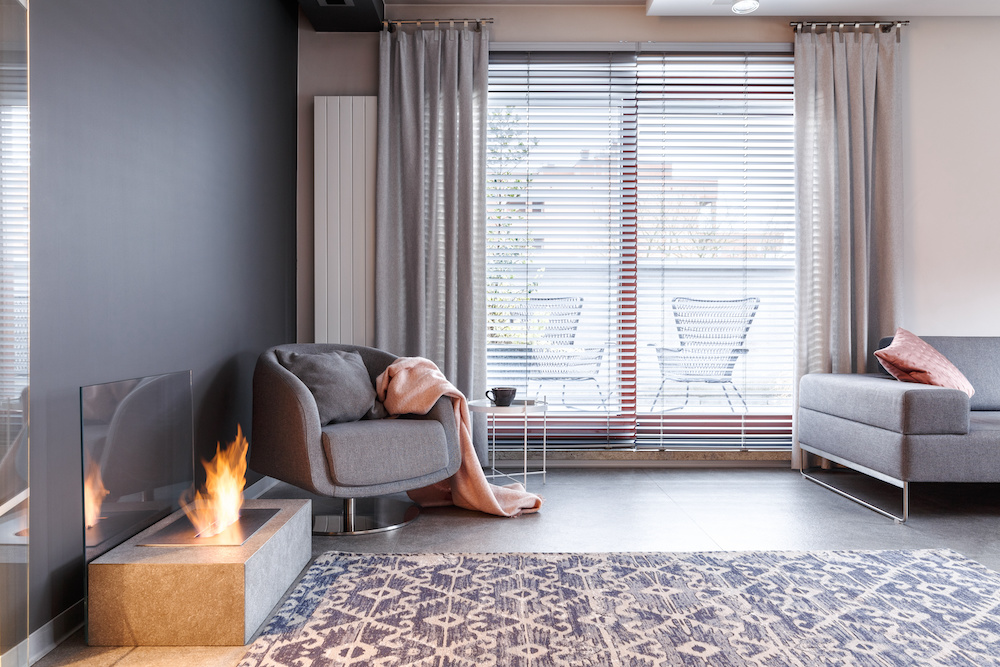 There isn't one exact way to use blinds and curtains together. Rather, there are a few guidelines or basic rules you should follow to prevent your home from looking like a mismatched disaster.
Depending on your style preferences you can use the same window coverings throughout your home to create cohesive kerb appeal. Alternatively, you can mix and match window treatments to add dimension or make different rooms stand out. However you decide to decorate, here are some tips for pairing blinds and curtains together.
1. Choose a Blind Style
The first step is choosing a blind style. Not all styles work as well in every room, so you may want to pick a few different ones. To create a cohesive look, you can choose different blinds styles in the same colours or colour family.
Here's a brief breakdown of the different blind styles you can choose from:
— Roller blinds: These blinds feature a headrail and one large piece of fabric that rolls up and down. Roller shades come in thousands of colours and various fabrics, including cotton, waterproof polyester and silk. These blinds have a minimal and sleek silhouette, making them great for bathrooms, living rooms and other small spaces.
— Roman blinds: Roman shades feature fabric that drapes on top of itself in large layers when it's raised. The layering adds a regal and elegant look. These blinds come in blackout fabrics and thermal fabrics. They're a great choice for people who want energy-efficient blinds and prefer a sophisticated look.
— Venetian blinds: Venetian blinds are horizontal blinds, typically made of aluminium. They come in classic black and white shades, as well as several colours for a bolder look. They are completely waterproof so they're ideal for bathrooms, patio doors and conservatory windows.
— Wooden blinds: Wooden blinds are a type of venetian blind made from real or faux wood. Real wood styles are ideal for creating a cabin-chic look and for adding a natural element to your home. Faux wood styles are best-suited for wet spaces as real wood blinds can warp if they get wet. Use faux wood blinds in spaces like bathrooms and kitchen windows.
— Vertical blinds: Unlike the other blinds on this list, vertical blinds feature slats that run up and down instead of horizontally. These blinds are perfect for bay windows, living rooms and dining rooms.
— Cellular shades: Also known as honeycomb blinds, feature an insulating layer in between two layers of fabric. These blinds help to maintain the ambient temperature in your home and can decrease energy bills by preventing draughts.
There are also several types of curtains including single panel curtains — featuring one flat strip of fabric — and pencil pleat curtains, which feature small vertical folds. Eyelet curtains feature delicate openings that add design to simple strips of fabric. Pleated styles usually add depth and dimension while simpler designs are more minimal and modest. Choosing the right one will depend on your style preferences and the look you're trying to create.
2. Mix and Match Prints and Hues
It's generally best to avoid choosing both blinds and curtains with different prints. That's because the patterns can overwhelm the space. Instead, try to match a curtain print with a similar print in the room. Use a solid coloured blind that uses a colour that appears in the printed curtain. This creates a put-together look without it feeling too intense. You can choose different prints for different rooms if you've fallen in love with more than one pattern.
3. Maximise Height and Width
One of the main benefits of using blinds and curtains together is that you can make your windows look taller and wider. To do this, try installing the window blinds above the window frame. This helps draw the eye up and creates the illusion of taller windows.
To maximise the effect, mount a curtain rod at the same height, but buy curtains that are a few inches wider than the window frame. This will make it look like the window is not only taller but also wider. You can also opt for floor-length curtains, which elongate the window and serve as a focal point.
4. Blend Beauty and Function
When it comes to window treatments, it's not just about beauty. They should also be functional. If you want to optimise light control in your home, blackout blinds and blackout curtains are a great choice.
These shades feature tightly woven fabrics that prevent light from seeping into the room. They're ideal for bedrooms and nurseries as well as spaces where you want maximum privacy.
On the other end of the spectrum are sheer curtains and shades. These curtain fabrics allow natural light to filter into the room, helping you create a brighter atmosphere while maintaining a modest degree of privacy.
The beauty of layering blinds and curtains together is that you can have both styles. You can use a blackout blind and pair it with a sheer curtain. When you want total privacy, close the blind. When you want to enjoy your views or natural light, switch over to the sheer curtains.
5. Add Accessories
In terms of home decor, accessories are an easy way to tie a design together. Once you've chosen the right curtains and blinds, look for accessories to complete the look. Tiebacks help to keep curtains away from the window frame, making it easier to open and close blinds. They also add style and come in fabrics as well as fancier metal and iron designs.
Pelmets and valances are other popular accessories that can make your design look more professional. A valance is made of drapery or fabric and is mounted to the top curtain pole. It helps to conceal the working mechanisms and adds a soft touch. A pelmet is typically made of wood so it provides a more structured, modern look.
6. Vary Your Designs
In general, it's a good idea to create varying designs rather than one look for every single window in your home. You can choose different colour schemes for different rooms or choose one colour and use different shades or fabrics for a more cohesive look.
Finding the right combination of blinds depends on your style preferences. If you like bold looks, you'll be able to play with contrasting colours and various patterns. If you prefer a more understated design, you'll likely stick to neutrals and simple colour combos.